The world-famous Christmas market opened its doors in Manchester with special guests Les Dennis and Connor McIntyre doing the unveiling in true pantomime style.
The market is one of the largest in the world and the stalls start at the Cathedral Gardens and ends at Albert Square and the Town Hall with side roads full of Christmas decorations, ornamental structures and attractions for the whole family.
Councilor Pat Karney who gave a speech about the market said that there are 300 stalls to choose from in nine locations across Manchester.
He said: "We have created this magical area in Cathedral Gardens with families and kids in mind and so we have all these astonishing ice sculptures which are alongside the ice-skating rink."
Les Dennis, who has starred in The Russ Abbot Show and hosted Family Fortunes, is starring in the pantomime Cinderella and will be joined by friend and colleague Connor McIntyre, said: "We were enemies on screen, but we were mates back stage."
And Connor explained: "I am delighted to be working with my old mate Les."
Les added: "We will be kind of sisters, but enemies as well and we are determined to get the prince and not Cinderella."
Les has also turned his attention to writing with the release of his children's book To the Back of the Numbers which will be on sale just before Christmas and is about the measurement of love.
Visitors to the Cathedral Gardens can enjoy looking around the stalls, before trying their skating skills on the ice rink.
One of the highlights is the stunning Ice Cavern which has multiple sculptures that are hand carved over several months prior to the market opening.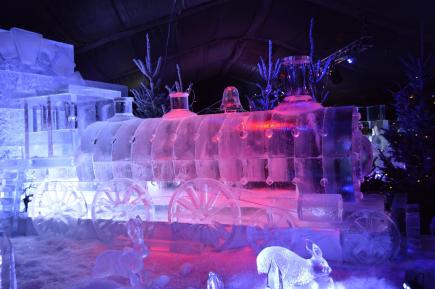 SPECTACULAR: The Ice Cavern has a range of incredible sculptures.
Les and Connor were the first guests to experience the Ice Cavern.
Connor said: "It is phenomenal, get on down to the Ice Cavern and bring a coat."
Jack Hackney, one of the sculptors said: "The sculpting began in June after a year and a half of planning.
"It can take about two days to a week depending on the size of the sculpture."
The market will be open from now until January 5th from morning until night and visitors will get to see a wonderful array of stalls, buy unique souvenirs and of course see the amazing ice sculptures and have a go on the ice rink.