The 1992 movie 'Death Becomes Her', starring Meryl Streep, Bruce Willis and Goldie Hawn, has been long-regarded as a queer classic but a drag parody of the film at HOME turned the well-loved flick into an even camper affair – and we couldn't get enough.
Coming as the Met Gala has just celebrated all things camp, this camper-than-Christmas production of 'Drag Becomes Her' saw drag legends Jinkx Monsoon and BenDeLaCreme take a pair of Hollywood rivals who drink a potion of eternal youth to get one up on each other.
Of course, things don't go to plan and the pair end up as walking corpses.
Jinkx Monsoon, who at this point should be an honorary Mancunian thanks to the number of different shows she brings to the city, was on point as per usual.
Oozing beauty, the Drag Race winner captivated the audience from the second she stepped on stage and gave us a near-perfect take on Meryl Streep's Madeline Ashton.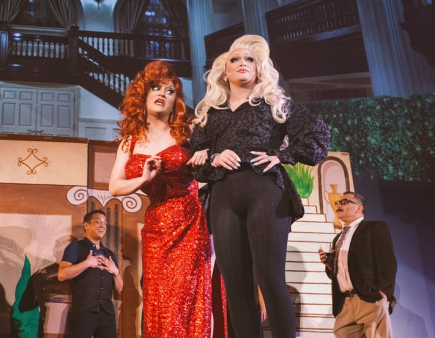 BenDeLaCreme, another Drag Race superstar, dazzled with her rendition of Goldie Hawn's Helen Sharp. Not only that, but the drag queen was responsible for writing the plethora of hilarious parody songs that were spread out during the 90-minute production.
Peaches Christ, writer, director and producer of the show, took on Isabella Rossellini's role of Lisle von Rhoman, this time named Isafella von Ramen-Noodles (because, well, of course), while Major Scales played the newly-named Ernest Womenville in the role originated by Bruce WIllis.
What was especially great to see was how much Manchester's very own Donna Trump shone alongside such big league performers.
Emerging throughout the production in various different roles, her rendition of Anna Nicole Smith brought the house down. Without spoiling anything, it's worth the ticket alone just to see.
Anyone who has seen a Peaches Christ production before (she was last in Manchester in 2017 for 'Hocum Pokem') knows to expect a show packed with adult humour, Drag Race references, and glitzy drag, and this latest production delivered on all that and much more.
During any other production, a few technical difficulties could run the risk of derailing things but here, they only added to proceedings.
Silent thunder strikes, for example, gave the cast the opportunity to bounce off one another and showcase their perfect ad-libbing skills while seeing Monsoon break into hysterics is always a joy to watch.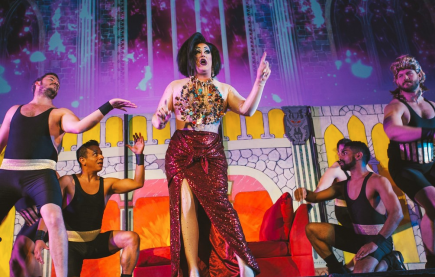 While very clearly a love letter to its source material, the parody show stands on its own two feet.
With new jokes that allow its cast to sparkle peppered in alongside some of the film's most iconic quotes, it's something that both die hard fans of the film and those who have never seen it before can enjoy.
It's a non-stop tour de force of campiness that'll leave you walking out the theatre with the biggest smile on your face.
Drag Becomes Her runs until Saturday at HOME before appearing at London's Soho Theatre until the end of May.