Three loyal fans of British comedian and former Manchester University drama student Rik Mayall have launched a campaign to get his 2010 World Cup anthem to number one.
Jason McGuire, Jon Morter and Steevi Tbfm Diamond set up the Facebook page yesterday following the news of the 56-year-old comedian's death and have already amassed 5342 likes.
They pledged to start the crusade to get his 2010 offering Noble England to the top spot in time for World Cup 2014.
The trio wrote: "In 2010 Rik Mayall recorded a song called 'Noble England' on the eve of that year's World Cup in South Africa. 
"Sadly on the eve of this year's World Cup we lost Rik, so a few of us thought it would be a nice idea to try and get him in the charts as a tribute to a legend.
"We are just 3 Rik fans hoping to give him a good send off!"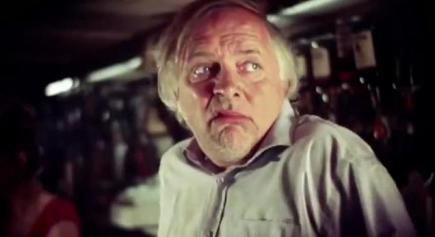 CLUELESS: Mayall's character seems perplexed by the game
Noble England sees Mayall transformed from clueless football fan into a patriotic historical figure who recites a rousing speech from Shakespeare's Henry V over football chants.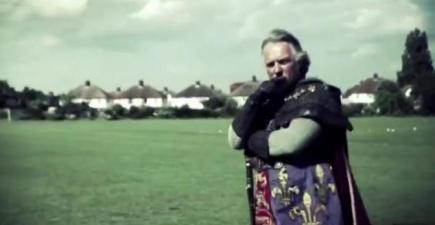 TRANSFORMED: St George-esque patriotism for the sport
Sports journalist Jake Humphrey took to Twitter to support the campaign.
He tweeted: "What a way to celebrate Rik's life. 
What a way to celebrate Rik's life http://t.co/G47L2uwd0M. If you're in, here's the link https://t.co/7bDApuLssH RT the hell out of this!

— Jake Humphrey (@mrjakehumphrey) June 10, 2014
Another user paid tribute to the star's slapstick comedy in Bottom by stating that if people didn't buy the single he would hit them with a frying pan.
Football fans in UK should try their best to make Rik Mayall's 'Noble England' number 1. Or I will hit you all in the face with a frying pan

— Gary Brooks (@gbrooks1) June 10, 2014
Mayall, married Scottish make-up artist Barbara Robbin in 1985 and died yesterday morning leaving behind three children.
He went to the Victoria University of Manchester in 1976 to study drama, where he befriended his future comedy partner Ade Edmondson.
He has appeared in numerous sitcoms including The Young Ones, Blackadder, The New Statesman and Bottom.
He has also starred in on the big screen in comedy films Drop Dead Fred and Guest House Paradiso.
Mayall was left in a coma after a 1998 quad biking accident, but he later recovered and returned to work.
Cause of death will be established following a post mortem. 
You can download a copy of the song here.
Images and video courtesy of Motivation Records via YouTube, with thanks