A theatre company which rose from the ashes of a devastating fire is heading to the Edinburgh Fringe after a series of sell-out Shakespeare shows in Manchester.
Cheshire-based Time & Again Theatre Company will stage new play Earwig from 4th to 27th August at the famous Edinburgh Fringe theatre festival.
The trip swiftly follows 12 performances of A Midsummer Night's Dream and Much Ado About Nothing at five different North West venues during June and July – several of which were sell-outs.
The successful Shakespeare in the Park tour followed months of hard work by company members to replace the entire collection of costumes, props, sets and equipment lost in a storage unit fire in February.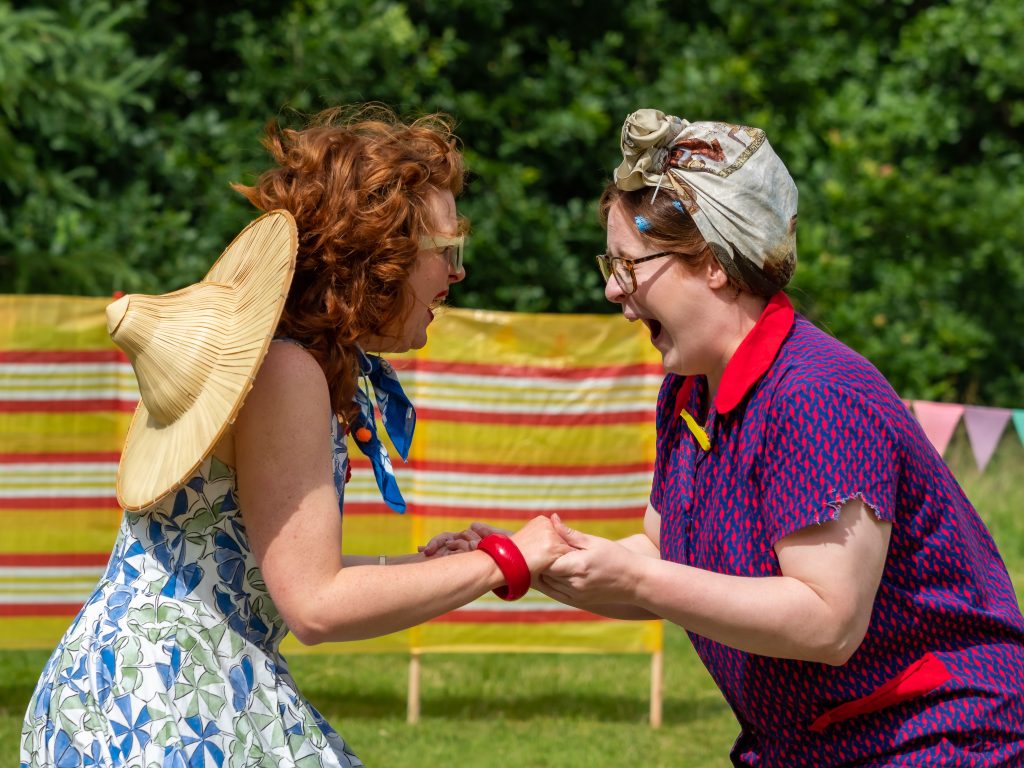 Given the financial challenges the theatre industry is currently facing, Time & Again founder Laura Crow said she was "thrilled" at the company's phoenix-like recovery.
"It's gone really, really well," Laura said.
"We have had some amazing feedback – I think it's definitely surpassed expectations!"
Touring "still difficult"
Laura, author of new play Earwig – about a deaf entomologist in the 1920s – said that putting on touring shows in the current economic climate is "still difficult".
She added: "I think we were very lucky with the Shakespeare in so far as none of the venues we went to wanted a hire fee or anything up-front.
"We were able to operate on a model whereby it was a box office split when we sold tickets, so there was minimal risk for us."
In contrast, Earwig will play at just one venue – Edinburgh's Assembly Front Room – throughout August, one of more than 3,000 professional and amateur productions this year.
Laura said: "I think amateur theatre does play a huge role in keeping the industry going.
"I know a lot of our people in Time & Again initially met while we were doing amateur theatre shows."
She dismissed "some people's snobbery" towards amateur theatre, saying performers build confidence and skills in amateur productions.
Companies in the red
Her view was echoed by Andy McNicholas, North West Regional Councillor for the National Operatic and Dramatic Association (NODA), the national body representing amateur theatre.
Andy said: "Many young people find their craft in amateur theatre sector and go on to study and eventually become employed in the industry."
He said amateur companies hire professional venues, scenery, costumes, musicians and technicians, providing vital funding to help keep the professional industry afloat.
But he warned that post-covid increases in venue, equipment and costume hire, are pushing increasing numbers of amateur companies into the red.
"The drive and desire to be back on-stage entertaining audiences is stronger than ever at the moment but amateur theatre is struggling in the current financial climate.
"Those societies that are lucky enough to more or less sell out their productions are finding it impossible to break even and some are reporting losses for the first time.
"We're also seeing a worrying trend of societies struggling to sell tickets for their productions unless it's one of the current popular 'hot shows' that are out and about at the moment.
"We are hearing this is partly down to people being in the routine of not going out as much as before, some people are worried about the rise of Covid and the current financial situation meaning people have less spare cash to spend."
Andy said the trend "isn't restricted to the world of amateur theatre though.
"Professional theatres are having to do far more marketing than ever before and we're seeing heavily discounted tickets for professional tours to get bums on seats."
But Andy said "it's not all doom and gloom though" as theatre continues to boost mental health of audiences and performers alike.
"The power of escapism shouldn't be underestimated," he said.