Cornerhouse and one of the Northern Quarter's hotspots for comfort food are teaming up to create an interactive art piece that may require a few napkins – as it is made entirely from cake.
A monstrous 'Frankenpudding' is to be the giant sugar-filled highlight at the premiere of a new movie which is sure to satisfy everyone's appetite.
Artist Bob and Roberta Smith's movie Art Party is a part-documentary and part-political fantasy about former Education Secretary Michael Gove's proposed changes to the school curriculum.
But this could be a side order as the tasty masterpiece will take centre stage and MM sat down with Charlotte O'Toole, chief baker at Home Sweet Home and creator, to discuss the bizarre event and what people can expect.
"The sculpture will be in the middle of the room and people will be able to deconstruct and reconstruct it however they like," she said.
"It'll be built from everything: donuts, biscuits, cakes, sprinkles and the main building blocks will be cakes baked here at HSH.
"We made a giant brownie for the Northern Quarter a while ago, but we've never done anything of this scale."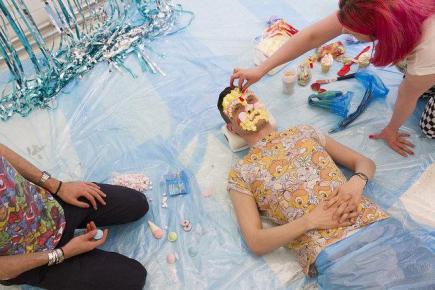 PIECE OF CAKE: People attending can have themselves turned into living art for the day
Visitors to the event will also be able to get a piece of the action themselves as they become the centre of creation – by having cake applied to their faces as they become a living piece of art.
The unlikely partnership between the venue and local business occurred after Bren O'Callaghan, Programme Manager of Visual Arts at the theatre, noticed Charlotte's work on social media and believed the two could work together.
"Bren follows me on twitter and Instagram and said he really likes what I do so he came to me and said he thought we could do something together," Charlotte told MM.
"With the Frankenpudding he just wanted something that people could join in with. Bren came up with the basic outline and we worked it up to what it is now."
This will be only half of the exhibition however, with participants encouraged to dress in overalls and take part in what the Cornerhouse are calling their Dirty Protest.
"We are calling 50 members of the public to create a glorious mess," said Bren.
"Taking place within an initially sterile room with white walls and floor, a viewing window will be installed along one length for those who would rather peer in from the outside.
"Racks of disposable overalls, goggles and masks will be available for those venturing within, where 150 litres of rainbow hued paints, including the entire fluorescent spectrum, are provided for manic application."
All this is will take place following the movie which focuses on Mr Gove's proposed changes to the school curriculum and in particular emphasis being placed on the more 'academic subjects', with the arts being largely excluded.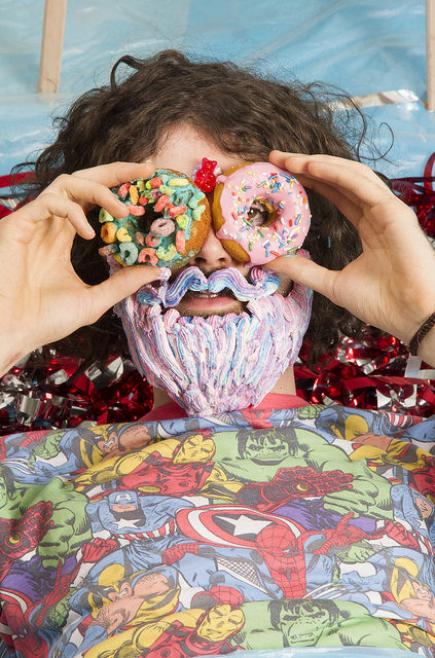 I SEE YOU: The film Art Party will look at Michael Gove's emphasis on more 'academic' subjects as opposed to art
Speaking of the film, Bren said: "Although satirical and deliciously waspish in its fist-waving and yah-booing at a specific political figure who has directly affected educational policy – with potentially catastrophic effect – this is not about one man, but the danger of divorcing the creative curriculum from our daily lived experience.
"All children are deserving of self-expression, particularly that which is not linked to grades or certifiable personal 'value', but rather moulds and shapes how we approach the world and our role within it.
"Without ideas, without play and experimentation, without the opportunity to fail and start over with a fresh sheet of paper, we cannot fully explore the options available to us no matter the task at hand. What a grey, insipid and uninspiring world that would be."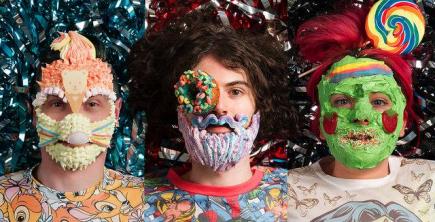 MASTERPIECES: The event takes place on August 21 following the premiere of the movie
Charlotte, who earns her living through a creative medium, agrees and explained why art was so important for her and why children in schools should be exposed to it.
"Art in school is incredibly important because that's how children express themselves," she said.
"Colours and crayons, they'll draw on anything.
"That's what you remember from being a kid. Whether it's making a macaroni necklace or whatever it all has equal value."
"My nan taught me to bake so that's what got me interested in it. We would go and buy loads of sweets and biscuits and decorate a cake."
The event takes place at the Cornerhouse on August 21 and tickets are on a first-come-first-serve basis to those holding a stub for the movie.
Iimages courtesy of Elle Brotherhood, with thanks