There is an inscription on the main staircase at the Royal Northern College of Music that reads: "Does originality actually exist or do we all simply build from what we have seen and heard?"
Last weekend's Wild Strings Jazz and Pop Harp Festival showed that in the Manchester music scene originality is very much alive.
The three-day event across two venues saw some of the world's finest harp players come together for a series of performances, jams, and workshops.
What came across most strikingly was the versatility of the instrument itself; whether lovingly plucked with the traditional grace one might associate with the harp or picked up and worn with a strap like a guitar, no two performances were the same – and few were like anything MM had seen before.
The highlight of the weekend came on Saturday night, at the RNCM.
Amanda Whiting's Welsh trio imaginatively reimagined jazz favourites such as Art Blakey's Moanin' and Miles Davis' Blue In Green, the three musicians complimenting each other beautifully and bringing a real warmth and intimacy to the venue.
Where one song was lolling and delicate, the next could be haunting and disquieting, Whiting controlling the room with what seemed like the most minor movements.
When the trio were joined by the superb Tara Minton or the peerless Park Stickney, things went to another level.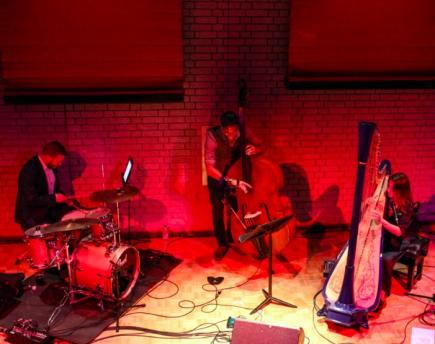 The depth of sound given by the two harps was remarkable. It wasn't quite jazz from another dimension, but perhaps another version of this one; the subtle differences between these versions of classic songs and their originals brought some extra layer to the sound which was hard to pin down.
It was jazz at its intriguing best, leaving you with a tapping foot and a raised eyebrow, eager not to miss anything.
Minton's own set was at once relaxing and strangely invigorating, a performance which danced along the line between comforting warmth and intense heat.
What really made the evening was not Minton's blessing of a voice, nor her equally talented drummer and bassist, but the captivating enthusiasm that all of the performers brought.
You just couldn't help but enjoy yourself. Whiting grinned like a starstruck child when she was joined on stage by Stickney, and Minton's storytelling between songs left you with the impression of that one fun family member who you can't wait to see at Christmas.
It was simply charming, the relaxed feel of the evening giving way to a great jam afterwards as local musicians and singers in the crowd were invited to join the players on stage.
And then, of course, there was the electric jazz harp rave.
This was an experience difficult to put into words, and slightly diminished by a disappointing turnout. An error of planning perhaps, as those who had attended the previous set didn't seem an obvious crowd for an event containing the word 'rave'.
There is always a tendency to see the harp as an old-fashioned instrument but this was glaringly futuristic, two DJs accompanying three harpists at Band On The Wall on the Friday night.
At one point, this reviewer half-jokingly described the resulting music as 'jungle smooth', but MM has since been unable to come up with a better description.
There was at times a bit of a vaporwave feel to it – the sort of music you get at parties in the far-flung future, where every surface is smooth and white and every sign is neon and Japanese.
It could have done with a tad more variation, particularly from the at times overpowering DJs. But it was billed as an event unlike any other, and on those terms is certainly delivered.
This was the first edition of Wild Strings, and the hope among the performers is that it won't be the last. MM hopes so too.