Talented singer-songwriter Jorja Smith brought rhythm, blues and even a garage rave to Albert Hall in Manchester for an intimate headline show to debut her second studio album.
Born in Walsall, West Midlands, Jorja Alice Smith, has been writing songs since the age of 11 and was discovered by record producer Guy Moot back in 2012 after her friend uploaded her cover of Labrinth's 'Earthquake' to YouTube. 
'Falling or Flying' is the singer's second full-length studio album and was released in September, over four years since her first full length debut 'Lost and Found', it stays true to her R&B roots whilst seamlessly incorporating neo-soul, dancehall and an essence of gospel.
Ella More, Smith's support act, warmed up the very cold and wet Mancunian crowd with a polished performance of soulful tracks including her newly released single 'At What Cost'.
The Birmingham songstress captivated the crowd with her neo-soul sound and honest lyrics, a rising star and a name to listen out for.
Once Ella had departed the stage, there was a brief band swap over and then an electrifying percussion performance began and became Smith's entrance music as she emerged from the wings in a stunning monochrome satin dress and greeted her audience by kicking off the set with 'Try Me'.
With two Brit awards and a Grammy nomination under her belt, the 26-year-old singer-songwriter did not disappoint and neither did her stellar band.
The set list included some of her greatest hits 'Blue Lights', 'Be Honest' and 'Teenage Fantasy' which had the sold-out crowd signing their heart out.
Along with songs from the new album like 'Little Things', 'Feelings' and the titular track 'Falling or Flying'.
Smith's voice is effortless and grounded, she sings with composure and opts for rhythm and flow over volume and belting high notes.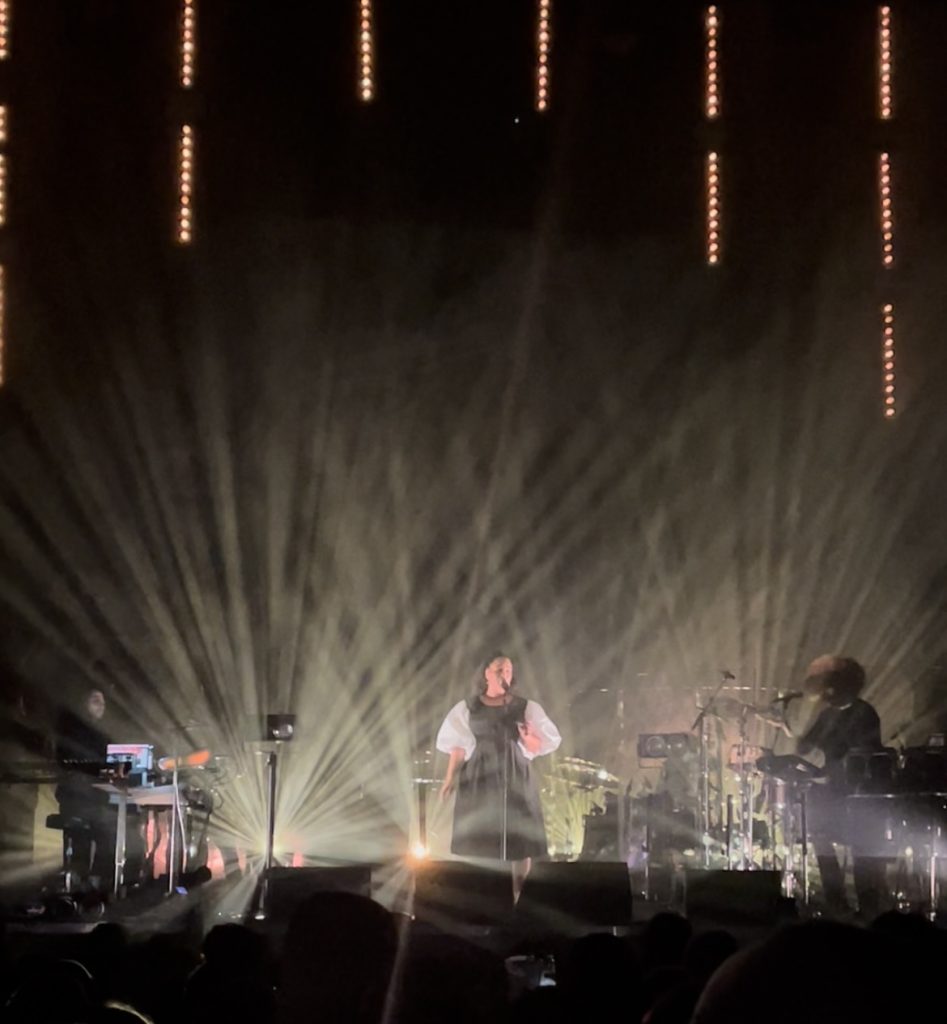 Her emotion led music drew a predominantly young and diverse crowd, amongst which were many couples who softly swayed together to her rhythmic melodies.
The grade II listed former chapel and now stunning music hall was the perfect backdrop for Smith's performance and the acoustics amplified the powerful performance of Smith and her skilled band.
The lighting states also magnified the dynamic atmosphere featuring warm white beams and colourful spotlights heightened by the hazy smoke-filled stage.
At little bursts throughout the set, Jorja spoke to her audience about some of the stories and meanings behind her songs, like 'Teenage Fantasy' a song she told the crowd she wrote ten years ago at just sixteen and the lyrics transport you right back to a school canteen and the rose-tinted feelings of seeing your first crush enter the room.
The one hour 15-minute set ended a little earlier than anticipated and failed to include some of her fan favourites like 'Don't Watch Me Cry' and 'Nobody But You' which features in her Spotify Top Five.
But then, it's only natural that Smith's voice leaves you wanting more, especially as she ended the set with her club-ready 2017 track 'On My Mind'.
She initially flexed her lyrical ability by starting the song with an acoustic version which had the whole crowd singing back at her.
A choir-like sound filled the restored Wesleyan chapel, it was very fitting and a beautiful moment.
Abruptly halted by the new school garage beats of Preditah's production on the track and the soft singing dispersed into a vibrant party and most, if not all, of the seated upper circle joined those in standing by getting up and dancing.
It's no wonder all three of her Birmingham, Manchester and London tour dates were sold out, as fans old and new can't get enough of Smith's nuanced and emotive take on R&B.