People will not be silenced, perhaps this was Federico Garcia Lorca's overriding message in his final play The House of Bernarda Alba.
Showing at the Royal Exchange Theatre until February 25, in collaboration with the UK's flagship disabled-led theatre company Graeae and with an all-female cast – also interpreted in British Sign Language alongside audio-descriptions for people with visual impairments – Jenny Sealey's production is a riveting ride.
Spanish playwright Lorca's deft genius will have served as an inspiration to other poets and artists following his 1936 murder at the hands of Fascist enforcers, under whose cloud Spain would suffocate until the mid 1970s.
If only Lorca could have seen the 750-strong audience, with a large D/deaf and disabled contingent, pour out into the Manchester streets afterwards on a cold February evening, making their feelings on a tense and dark comedy plainly clear. 
"Insect!" "Whore!" the dictator-like Bernarda (Kathryn Hunter) bellows at two of her five daughters, entrapped in their mother's house for eight years to mourn the death of Bernarda's second husband.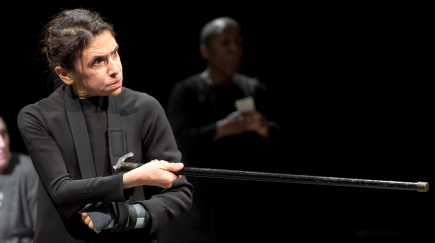 REIGN OF TERROR: Bernarda Alba star Kathryn Hunter lays down the law
Clad in black and with a sinister cane, Hunter's appearances on stage are greeted with a dark musical backdrop. Even before she takes the stage her head maid Poncia (Alison Halstead) disdainfully spits several times on Bernarda's chair.
The audience wriggle uncomfortably, but the signer maid (EJ Raymond) just wipes the saliva clear and everyone can breathe again, laugh, reach for a sweet. The tension has been broken.
Bernarda's daughters are another source of release, left to their own devices the scene is brighter. But chaos – and their domineering mother – lurk close by.
Angustias (Nadia Nadarajah), Bernarda's eldest daughter from her first marriage, is due to wed the phantom-like Pepe (who we never see) but the youngest of the five and the most rebellious (Adela – Hermon Berhane – main picture) is also linked to him while Martirio (Kellan Frankland) steals a picture of Pepe and hides it under her pillow.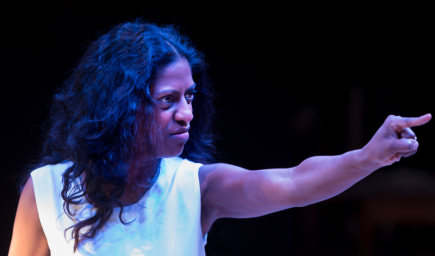 FIGHTING SISTERS: Angustias points the finger of blame
Bernarda attempts to restore calm before more moments of light relief as the play works it way towards a crashing crescendo – not even the colourful interventions of Bernarda's mother Maria Josefa (Paddy Glynn) and her friend Prudencia (Freddie Stabb) can derail the tragic ending.
Perhaps a little shell-shocked at how a quarrel over a man could have ended with such dire consequences, Bernarda urges us to be silent as the lights fade.
It's a fitting soliloquy on which to end if the buzz emanating from the theatre and surrounding streets afterwards is anything to go by.
Click here for tickets: https://www.royalexchange.co.uk/whats-on-and-tickets/the-house-of-bernarda-alba
Images courtesy of Jonathan Keenan, with thanks.