A man from Salford with a muscle-wasting condition has completed a Captain Tom 100 challenge which saw him cycle for 100-minutes.
British Red Cross assistant Tony Doherty, 47, from Salford, completed the challenge in order to raise money for charity.
Inspired by the work of Sir Captain Tom, Doherty cycled for 25 minutes a day for four days in order to raise money for Muscular Dystrophy UK, a charity for around 70,000 people living with muscle-wasting conditions in the UK.
Doherty said: "Captain Tom stepped up to help, taking on his famous walk to support the NHS COVID-19 appeal and inspiring millions to donate to the cause.
"I chose to cycle 100 minutes to celebrate his amazing spirit."
Doherty was born in Manchester and is the youngest of five. He would take part in activities like other children but would suffer muscle cramps and at age 13 could no longer take part in cross-country running at school.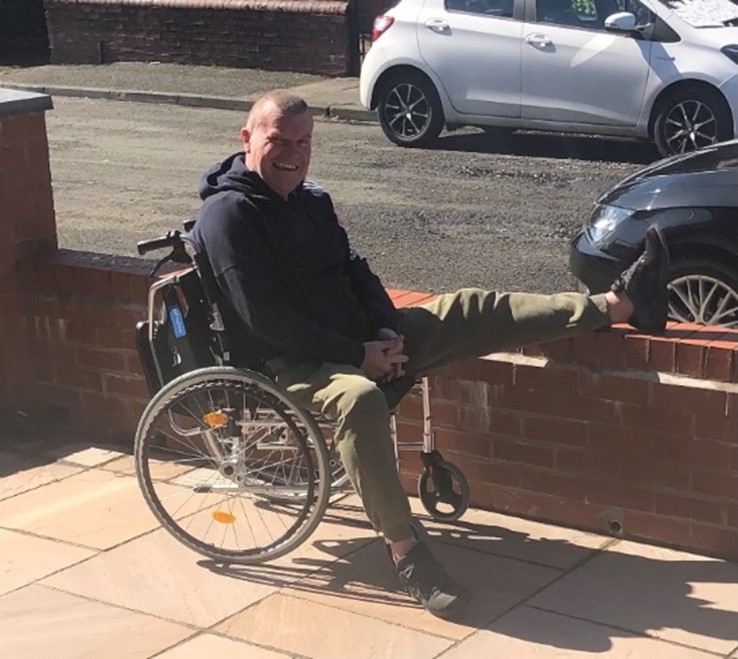 "I thought everyone had the same cramp pains, so I never questioned it," Doherty said.
At age 21, he was struggling with getting upstairs as well as frequent falls, and was diagnosed with Becker muscular dystrophy in 2008.
Becker MD was first described in 1956 and is usually found in males, causing muscles to weaken over time leading to disability and life-threatening problems in some cases.
"I am doing my Captain Tom 100 for MDUK because the charity has supported me extensively this year, by advising me on facilities that are available to me for adaptions to my home," Doherty said.
MDUK is a charity that supports people affected by more than 60 rare and very rare progressive muscle-weakening conditions, who due to the lack of fundraising opportunities caused by the pandemic have lost around £2.4m in fundraising income.
MDUK product development executive Emma Watkins said: "Thank you Tony for your Captain Tom 100 challenge – and fundraising for MDUK.
"We hope it will inspire others to take on their own Captain Tom 100."
Donations to Doherty's fundraising page can be found here.