Multiple award-winning musical Blood Brothers has made its way to The Lowry in Salford – and boy how it made an impression.
For those unfamiliar, Blood Brothers started as a small-scale musical in the 1980s before eventually dominating the West End for over 20 years.
Set in Liverpool, the musical covers two fraternal twins, Mickey and Eddie, who are separated at birth only to grow up together as best friends, unknowing of their brotherly origins.
Eddie was given away to a well-off, middle-class family as his mother couldn't support both children, whilst Mickey remained in a struggling, working-class background.
Bill Kenwright's production explores the brothers' differences both in personality and class, whilst simultaneously focusing on their mother's progress and struggles.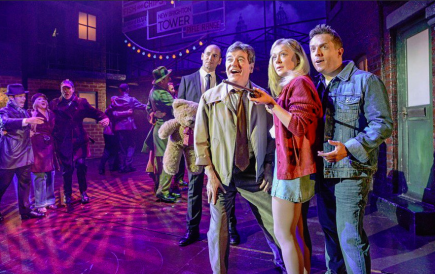 Although not everyone may be acquainted with Blood Brothers, many will recognise the title from their GCSE/A-level days. I could count myself a member in this group. Having had not a clue about its premise, I was assured of two things: a) I would absolutely love it and b) I would be in tears by the end.
Despite my best efforts to ignore these comments and treat it with an open mind, I can safely confirm that both of the above happened.
The first thing to mention is the music. Blood Brothers may not necessarily be famed for its musical numbers but nonetheless the cast do such an excellent job in that they draw you in with every song, with the continuous theme Marilyn Monroe a particular highlight throughout.
Although only a short number, Miss Jones deserves a mention of its own. The juxtaposition between the light-hearted tune and the darker, depressing lyrics delivers a powerful message – impressive considering it lasts for no more than a couple minutes.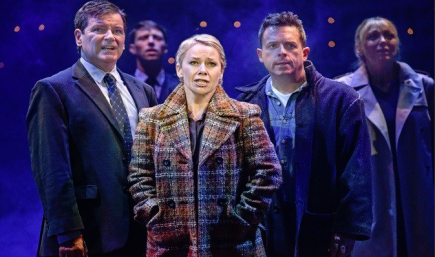 Moving onto the performances, the entire cast as an ensemble is very strong. Alexander Patmore and Joel Benedict as Mickey and Eddie respectively put in solid displays, as well as Robbie Scotcher's mysterious narrator, whose illusive nature keeps you guessing about when his next sudden burst of 'The Devil's Got Your Number' will appear.
Undoubtedly though, the stand-out star is Linzi Hateley as Mrs. Johnston. This performance all but cements just why she has been Olivier Award-nominated in the past.
There may be a separate narrator but you follow the story mostly through her eyes. You're with her for every step of the way and you feel both her joy and pain at every climactic moment.
One of the most impressive aspects of the musical is just how hard Willy Russell's themes of class and the bitterness of life still hit home. It illustrates how similar society is today to the way it was when the show's first opened 36 years ago.
There aren't too many criticisms that come to mind of this performance: perhaps the stage could be more creatively used and the set could have a little more detail, but that's just a small price to pay for such a well-executed show.
All in all, Blood Brothers is as ever an emotional rollercoaster that will have you laugh, cry, and keep you on the edge of your seat right until the closing number, Tell Me It's Not True.
*Blood Brothers is showing at The Lowry, Salford until Saturday, April 13. You can buy tickets HERE.