Platinum selling Pixie Lott has revealed it was the sound of the swinging sixties that influenced her latest 'mature' soulful offering.  
The 23-year-old rose to fame in 2009 after releasing her debut Turn It Up which included hit singles Boys & Girls, Mama Do and Cry Me Out.
The singer has since racked up a total of six top ten singles and secured a headline slot at this year's Manchester Pride.    
Speaking exclusively to MM, at a HMV album signing in Manchester, on Friday, Pixie said: "My first album came out when I was 18 so it's been five years since then which is crazy.
"The new record took a while to make because I really just wanted to be a perfectionist with it and put out something I was really happy with. 
"It's definitely more mature, the writing and my voice, and it's the most me out of all my album's.
"I wanted it to have this whole soul sound that I've always wanted to do and just make something timeless. 
"I'm really enjoying getting to do all the live stuff too because I can do it with my band and just really get into it. Soul is my favorite style to sing and to write so it's been really fun; it's been my favorite album to make."
Had the best day in Manchester seeing @PixieLott pic.twitter.com/SrfQZRrxzt

— Sam Carr (@saamcarr) August 8, 2014
The self-confessed fashion addict has also been enjoying incorporating her signature style in new videos, Nasty and Lay Me Down, which are the first songs to be released from the album. 
Pixie said: "Because the album is soulful and my favourite fashion is the sixties I can really embrace that and merge the two together which is really fun.
"I'm really into seventies style as well at the moment and there's loads of stuff coming into the shops that's got that vibe and I'm really into it.
"This week I'm rehearsing for V Festival I'm really looking forward to that. I've got my full band and I'm singing my new songs which is really exciting and I'm excited to choose my outfit for that!
"Last year I did body art all over my legs. The best thing about festivals is there are no rules and you can wear something crazy and you can have more fun with glitter and make-up."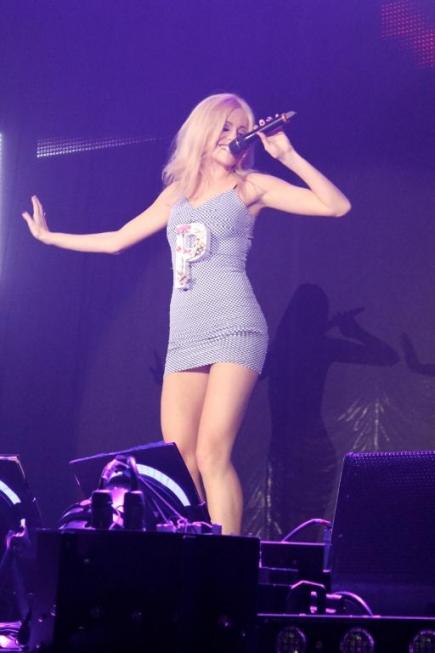 PRIDE POP QUEEN: Pixie Lott at Manchester Pride in 2011
The fashionista will be stopping off in Manchester, once again, on Saturday August 23 to make a welcomed return to the Manchester Pride Big Weekend line-up.  
Pixie said: "Manchester Pride especially is an excuse to have fun with your outfit, you can really mix it up compared to like a red carpet event or something. I've got a fun outfit planned for that."
"There's definitely going to be a lot of up tempo stuff because I know the crowd appreciates that more than stripped back acoustic stuff. So I'm going to have all my dancers and hopefully we can get the crowd going.
She added: "It's just going to be more of a fun high-energy gig."
Pixie will join Anastacia, All Saints and Eurovision song contest winner 2014 Conchita Wurst for her second Big Weekend performance.
Pixie's album is currently available from HMV, to buy on itunes click http://bit.ly/1sgUDKk 
Manchester Pride will run from Friday August 22 – Monday August 25. For tickets visit: www.manchesterpride.com
Main image courtesy of Vevo via youtube, with thanks.