It brings me great pleasure to put on my truly awful attempt at a New York accent and say, "gee buddy boy, this production really knocked it outa the park".
This is simply an astounding version of Sondheim, Berstein and Laurents' enduring work; one that's had new life breathed into it through new choreography and orchestration.
Choreographer Aletta Collins has risen to the unenviable challenge of being the first to rework Jerome Robbins' original moves – choreography that has been the same in every major professional West Side production since 1957.
Collins has intelligently updated the choreography whilst maintaining Robbins' original eclecticism. Retaining shades of the original's iconic blend of jazz and ballet, Collins brings in new elements of modern Latin and street dance. But never fear, the odd, sparing finger click still remains.
The choreography makes full use of the Royal Exchange's space: a theatre in the round. The indefatigable cast dashed in and out of the central stage circling and mamboing with endless vigour. There wasn't a single weak link in the ensemble dance numbers.
The Royal Exchange was transformed by Anna Fleischle's ingenious and minimalist set design. Made up of a series of movable white metallic beams and platforms, the set was constantly evocative but never intrusive, transporting you from the street to the balcony and everywhere in between.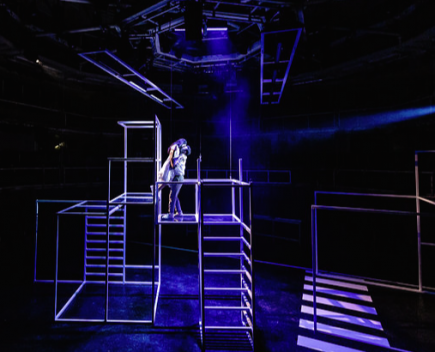 In terms of instrumentation, Jason Carr penned a stunning re-orchestration of Berstein's classic music. Carr's dynamic reed and brass-heavy arrangements did justice to the beauty and power of the original score. Songs you've heard a hundred times hit you the way they did the first.
Led by Mark Aspinall, the 11-piece orchestra pulled in a powerhouse performance mixed and produced perfectly by sound designer Richard Brooker. Every instrument was balanced expertly with all given room in the mix to breathe.
But of course this would all mean nothing without stellar acting and vocal performances. Director Sarah Frankcom, in her final show as the Royal Exchange's Artistic Director, did an exquisite job bringing the best out of a remarkably talented group of young actors: all of whom are pitch perfectly cast.
In the principal roles of Tony and Maria, Andy Coxon and Gabriela Garcia give defining performances. With the high melodrama and baffling rapidity of Tony and Maria's love, it can be easy for these characters to slip into being hammy rather than relentlessly charming and moving as they were here.
Coxon and Garcia's performances were expert in knowing when to crescendo and when to restrain. Their vocal performances were nigh on flawless. Coxon's big solo numbers exhibited the power and control he has of his tenor voice with his dynamic performance of Maria standing out.
Garcia was equally astonishing. Throughout her first number, Tonight, she builds and builds before unleashing a stunning vibrato to audible gasps. Both she and Coxon made their mark as two of the best live vocalists I have seen in years.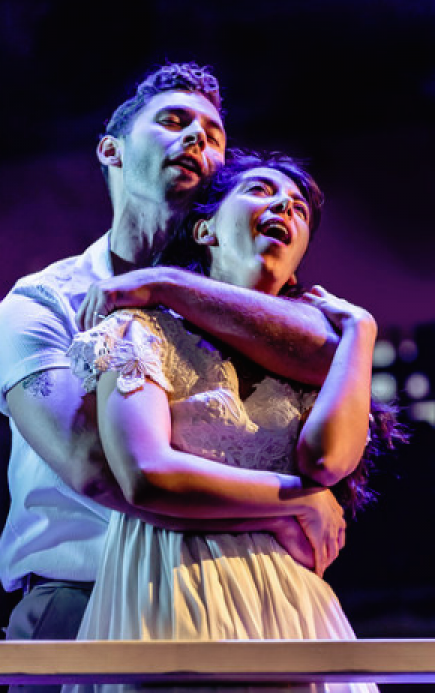 This is to make no mention of how well Coxon and Garcia's voices worked together. Their outstanding duets, particularly One Hand, One Heart, would make you think they've been singing together their entire lives.
They're backed up by their brilliant co-stars Jocasta Almgill (Anita), Michael Duke (Riff) and Fernando Mariano (Bernardo). Each brings just the right amount of sass, confidence and angry sardonicism to their principal roles respectively.
Almgill in particular was a joy to watch. Her performance of A Boy Like That was an example of an actor truly in their dramatic element. This held true during her ensemble performances. You expect America to be a highlight and this show doesn't disappoint in that regard. This is in no small part thanks to the talents of Almgill and the Shark Girls.
It's therefore not only the principals who deserve such praise, as the ensemble performances were pinpoint with all of the actors seemingly having the time of their lives. These huge numbers are sensational from start to finish.
The extent of the group's talent was epitomised during one of the emotional highlights of the show: Somewhere. An ensemble piece rather than its traditional Tony and Maria duet, this rendition was such a remarkably moving bit of theatre that the audience didn't, nay, couldn't clap through tears.
Whilst every single member of the ensemble puts a Herculean effort into their performances, special mention must go to Emily Langham (Anybodys), Michael Lin (Baby John) and Oliver Tester (A-Rab).
Amongst such talent it's tough to stand out, but the work they put into their performances both when the focal point and otherwise was subtle and consistently brilliant. Anybodys essentially has her own fully developed side narrative thanks to Langham's expressive talents.
Still, it would be remiss of me to say that the show was flawless. However, the very occasional off accent and lukewarm fight choreography does nothing to take away from what will likely be the best show I see this year.
Utterly blissful and unmissable entertainment.
*West Side Story is showing at Royal Exchange, Manchester until Saturday, May 25. You can buy tickets HERE.