Manchester's adopted son and EDM trailblazer Gareth Emery chose the city he now calls home for half of the year (when he's not sunning it up in LA) for the launch of his new album Drive.
Just over two years ago, it was Sankeys who played host for the third birthday of Emery-owned label Garuda. Now it was the Albert Hall. 
The change in venue choice may simply be chance. After all, who wouldn't want to host their album launch in the hauntingly iconic and immeasurably  arresting spectacle of the Albert Hall? 
Yet you can't help but wonder how the launch of a vocal-laden album, with its trance roots a fairly distant memory and a mesmerising light and screenshow to boot, would have gone down in the sweaty subterranea of Sankeys.
Either way, Albert Hall proved the perfect setting and Emery made full use of the stage set-up – complete with hypnotising LED screens and light beams, immaculately-timed fog cannons and streamer blasts and a host of featured female vocalists who turned up intermittently.
SO MUCH LOVE FOR MANCHESTER TODAY!!! pic.twitter.com/OjuX8hlbJW

— Gareth Emery (@garethemery) May 11, 2014
This 'high performance' stage show worked wonders in the gothic interior of Albert Hall and made for an awe-inspiring show.
It also matched the new direction in which Emery has taken his sound; Drive is almost unrecognisable from the Southampton-born DJ's previous album Northern Lights.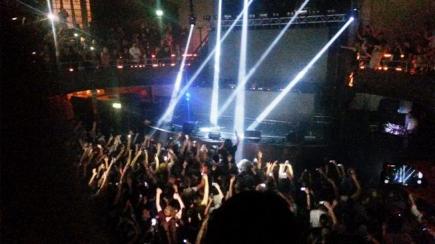 ARRIVAL: Gareth Emery's set opens with a dazzling light show
Being an album launch party, Drive was always going to be given prime position. 
It's melodic, vocal-heavy tracks dominated the night and the album's strongest moments saw the crowd captivated.
U, complete with live vocals by Bo Bruce, held its own as the show's monumental centre-piece in the middle of the set.
Meanwhile the beautifully wistful Long Way Home provided an emotive finale – noticeably void of any lyrics but arguably as well received as any of its sing-a-long counterparts.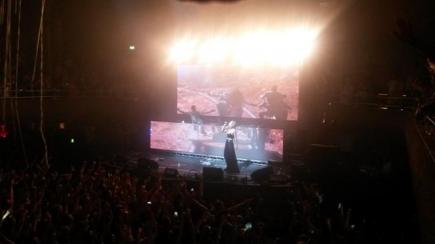 MONUMENTAL: The set's centre-piece, U, featured live vocals from Bo Bruce
Dynamite, Beautiful Rage and Soldier also proved strong – but the likes of Lights and Thunder and Eye of the Storm, much less so.
The attempt to recapture the magic of the likes of U and Concrete Angel is evident in many of these tracks – as is how far a few fall from the mark. The bombastic setting showed up some of the weaker song-writing in a couple of the anthem-hopefuls.
Emery's path to possible commercial superstardom had never been more evident (and noted in our review two years ago with the radio friendly brilliance of Concrete Angel already under his belt) – and his numerous pop smatterings through the evening, be it the Arty remix of Hey Now, Summertime Sadness or even Pompeii, demonstrate his willingness to be eclectic, progressive and inclusive in his overall sound.
Even those with no interest in electronic music could have taken a lot from this set – illustrating a clear trajectory set by the DJ.
Most tellingly however, it was Emery electronic classics like Tokyo that really set the venue ablaze, providing fist-pumping adrenaline shots to the evening's momentum – much-needed following a fairly lacklustre performance by Danny Howard earlier in the night.
The eventual rendition of the aural gem that is Concrete Angel (complete with live vocal performance by Christina Novelli) acted as a magnificent penultimate piece before Long Way Home signalled Emery's time to wave goodbye.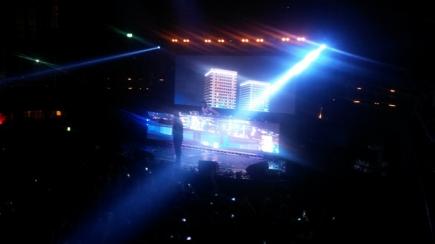 FAN FAVOURITE: Concrete Angel, complete with live vocals by Christina Novelli, was one of then night's highlights
But it was far from time for people to make their way home.
As soon as the lights went down, they were back up – if understandably not as bright – for Manchester's own Craig Connelly to take to the decks.
With his pulsating, pounding juggernaut Manchester AM, Connelly brought a firm fix of trance that was welcomed by those you could assume had followed Emery from the early days – even if the crowd had somewhat diminished. 
The rousing track Black Hole was his set's pinnacle and, while it owes much to Emery's influence, his set overall did not follow his mentor's new direction; Connelly's music is strikingly reminiscent of Emery circa-2011 – still firmly rooted in trance. Whether it will be in a couple of years, will be interesting to find out. 
An incredibly well-executed event, this was a bold declaration of Emery's intentions and a dazzling showcase of his talent. 2014 could be the year Gareth Emery becomes a household name across not only the country but the globe.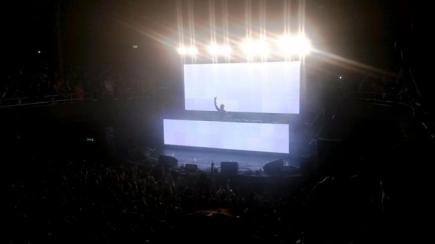 GOOD NIGHT, MANCHESTER: Gareth Emery presents Drive at the Albert Hall