Manchester, along with nearby Liverpool, is making a play to transform England's North West into a thriving cultural hub, driving trade and industry away from London into the UK's beating new heart.
This is reflected in the area's transforming skylines and emerging economic clout. As for Manchester itself, a student city, it has become home to hip and trendy clubs, bars and restaurants.
On that note, here are 5 top nights out in Manchester.

The Atlas Bar
Situated conveniently close to Deansgate Station and just opposite the bars of Deansgate Lock, The Atlas Bar is a little Locks' gem which has drawn a huge following of gin lovers.
This is largely due to
their dedicated gin menu
, confidently titled 'The Gin Bible', and featuring a smorgasbord of the drink, over 60 in total.
Of course, there is still plenty of beer, cider, wine and other spirits to be enjoyed here so don't be put off if you don't happen to be a gin drinker.
The bar itself is pretty chilled with a neat little laidback style making it perfect for either a casual daytime drink or something a little more upbeat by night, whichever is more to your liking.
The inside is cool and sports an impressive look, largely thanks to its post-modern design while, in the summer months, the beer garden is just lovely if you can find a night when it isn't raining.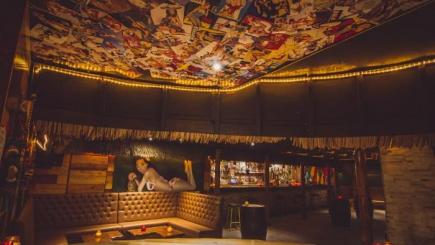 Hula Tiki Lounge
Take a trip to Hawaii, well Manchester's take on it anyway, at the Hula Tiki Lounge on Stevenson Square up in the city's Northern Quarter.
This is fun themed party venue whose tone is immediately set courtesy of a tropical fish tank situated at the entrance. This 1950s retro Tiki hideout is a basement bar for the late nighters out there that's always filled to the brim with 24-hour party people.
As you expect from a tropical beach themed watering hole, there is a super long list of cocktails, all served in tiki glasses naturally, but other popular alcoholic drinks are available too.
Manchester's best DJs all line up to play here, largely thanks to the vibe, with a different jockey spinning the sounds each night.

The Liars Club
Another in Deansgate's roll call of hip bars, The Liars Club is yet another cool Tiki cocktail outlet that is most definitely worth a visit.
With a touch more of a moody ambiance than the Hula, this alternative venue is fun and atmospheric largely because of its lower than ground level basement setting.
Because of this, the bar provides superb escapism from the English weather outside and up top while hosting top heady Caribbean tropical parties down below.
As well as being one of the finest cocktail bars – and cocktail masterclass schools – in town, the club also offers beers, wines and spirts a plenty, but the real deal here is rum and plenty of it too.
The décor is warm and welcoming, as you would expect given the Caribbean vibe which will keep you blissed out along with the good music, great drinks and hedonistic crowd that will still be going strong at 4am.

Genting Club Casino
If dancing the night way isn't really your thing, preferring instead to grind away at the poker tables, then The Genting Club on Portland Street is well worth a visit.
Here, you'll find a huge selection of cash games every night of the week, including No limit Texas Hold 'Em. Slots players, too, are well catered for as Genting offer their customers a minimum return percentage of 94% back on slot machines.
Here, you'll also be able to play other casino games so perhaps it is a good idea to try them out online before stepping into the casino to try out Roulette, Blackjack, Three Card Poker, the biggest Baccarat in the North West and Electronic Roulette.
With the award winning Fahrenheit bar and restaurant, Genting Club Casino is one of the city's guaranteed top nights out.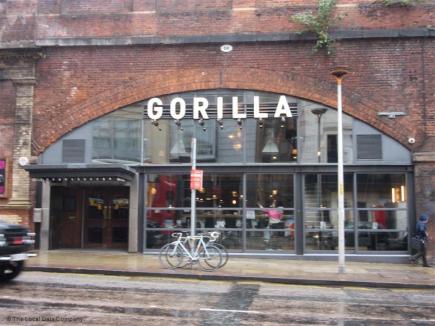 Gorilla
You can find this live venue and club by the railway arches underneath Oxford Road Station on Whitworth Street.
The venue itself is actually a former theatre but has recently been reinvented into one of the trendiest hangouts in the city.
The bar is well located, being close to the other Oxford Road bars, so always does well thanks to those on, what locals call, a "pub crawl", where revellers roll from bar to another stopping for drinks in each one. Again, thanks to location, it has become very popular for after work drinks and bite to eat.
The kitchen has a menu which, while more expensive than some places in the city, offers a superb all-day breakfast which is simply a must have, while the burgers are pretty special too. Drinks wise, they do draught, canned and bottled beer here, as well as a fine choice of wines, spirits and in-house cocktails.
When you've been well fed and suitably watered, check out the 600 capacity live music and club space that will round off your experience in this superb Manchester bar.