Paolo Nutini really has had a big year. After a five year break, his third album Caustic Love was met with critical acclaim and went straight to number one.
The shy Scottish-Italian has come a long way from his mum and dad's fish and chip shop in Paisley.
Since first making it big he has released three hit albums, played all over the world and melted many a heart along the way.
Paolo and his incredible ten piece band will be performing at Manchester's Phones 4U Arena on November 6 and these days the soul star isn't holding back.
Before his tour hits the city, Paolo caught up with MM to discuss the new album and how he has developed as an artist over the years.
He said: "I've never been the best at posing for a camera, or even considered myself to be that kind of guy.
"There's a lot that I'll do now though that I never would have done before, like taking my top off. I can see the art in things now, whereas before I'd worry that all my mates would slag me off.
"I've immersed myself more in culture. In the past I had opportunities to be photographed by certain people, but I turned them down.
"Mario Testino wanted to photograph me once, but I didn't know who he was. My girlfriend at the time was really into photography and when I told her I wasn't going to do it, she couldn't believe it!
"I just didn't get it then. But now music and other art forms seem to be running a lot more in tandem."
He added: "I think there was an element of fear before, not because I was scared of doing these things, but of what people would think.
"One of the best things that ever happened to me was shedding that mentality."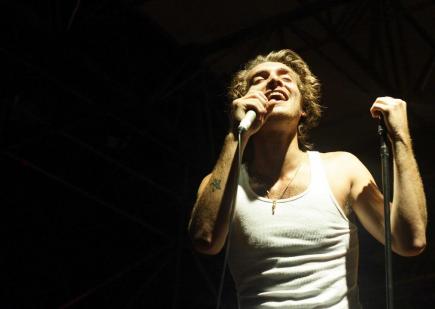 SOMETHING DIFFERENT: The new album let Paolo flex his creative muscles
The singer left school aged 16 to be a roady for his manager's band before finding fame himself at 18, as he shot to stardom with These Streets.
But once his second album Sunny Side Up had been toured in 2010, Paolo was aware that he wanted to do something different.
After splitting up with his long-term girlfriend, the performer felt that he needed some space and time away from the stage.
He said: "My life experience was becoming warped, self-centred. Not out of vanity, but necessity. It became about, 'How well can I do what I do today?' For all intents and purposes, I jacked it in.
"Afterwards, I was moving around, going to places where people don't really care why I was there. I had recording equipment, but I wasn't doing it on anyone else's time."
"I'd always planned on taking some time to readjust. There was a lot going on in my personal life.
"I took a year out, went home and made myself available to do day to day things. I didn't have a driving license. I wasn't much of a cook.
"A couple of my friends had kids and that made me think if I was lucky enough to be a dad one day, what would I know? What can I do? What could I teach them? It wasn't a long list.
"I'd heard this Rastafari poet, Mutabaruka, speak about the importance of working with your hands and natural materials. I was still wanting to be creative, but I didn't want the main outlet to be music.
"I started to whittle wood and so some cooking. I did some sketching and carpentry. Plant a flower, watch it grow. It might sound twee to some people but I found it amazing. I'd never had the time before."
Caustic Love has captured the hearts and minds of the British public with broody and powerful tracks like Iron Sky to funky more groovy upbeat offerings such as Scream (Funk My Life Up).
With his gravelly hypnotic vocals and soulful high octane band, Nutini has been entertaining crowds across the UK and Europe with tracks from the fastest selling album of the year, delivering a showstopper at Glastonbury.
Caustic Love was written and co-produced by the 27-year-old and the process really allowed him to flex his creative muscles and deliver something sublime.
"I caught myself writing songs and making music as a hobby at the end of the day, it was fun again. It was giving me a release rather than getting me down," he said.
"I knew then there'd be a third album."
He added: "I like to go into my head. I see a lot of images when I think about it, when I hear songs I write. When I'm working on a song, it comes with pictures. It's like a film, it has scenes.
"That's how it comes together for me and grows. At the best of times I can detach and get sucked into the situation and imagining it.
"When I hear a synth I could see a unicorn or for drums I can see getting punched in the face. Then I go on to little characters.
"I am convinced that if I went to a psychiatrist I'd come out with three new nicknames and a prescription the length of my arm… which is why I'm never going to."
To find out more about Paolo Nutini's UK tour or get your tickets click here.
Main image courtesy of Rockon.it, via Flickr, with thanks
Inset image courtesy of Catarina Gili, via Flickr, with thanks