The challenge for any page-to-stage adaptation is to inject new unfound life to an author's words.
With a novel as complex as Paul Auster's City of Glass this is no easy task, but in HOME's landmark production it's safe to say this challenge is met with aplomb.
The play is not without its faults, and it should certainly be said that it is not an easy-going hour and a half of theatre, but the ambition of the piece can only be applauded.
At the heart of this ambition is the technical magnificence with which 59 productions transfer Auster's detective novella to stage. Frankly, what the audience witnesses is nothing short of real-life stage magic.
Through the use of projectors, the blank white walls of the set transform from our protagonist's dingy flat, to an imposing hallway resplendent with portraits, to Grand Central Station, to the New York skyline rising up from the ground to monstrous proportions dwarfing the action onstage.
It is intriguing that the production comes alongside a virtual reality short – 'My Name is Peter Stillman' – and there is a true feel of this virtual reality being transferred onto the stage as the audience begins to question which elements of the set, props, and even characters are actually real.
Regardless of how City of Glass performs at HOME and in London, it seems inevitable that the legacy of this production will be this use of staging – the first truly successful combination of theatre, film and virtual reality I have seen.
The visuals work perfectly in partnership with the detective noir plotline, as the walls become plastered with the words, thoughts and leads of pseudo-detective Daniel Quinn as he is cast on the descent to madness by the peculiar case of Peter Stillman.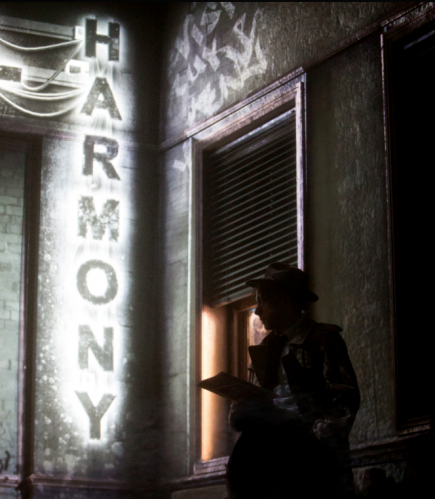 WEIGHTY, COMPLEX, GROUNDBREAKING: Paul Auster's City of Glass is no easy novel to turn into theatre, but Duncan Macmillan and director Leo Warner give it a very good go
A mistaken phone-call sets Quinn on a spiral of intrigue and madness, unwinding as the audience slowly realises the various layers of the plot – a book within a book within a play – if this sounds confusing, it is.
Duncan Macmillan is an extremely accomplished playwright and his scripts have on more than one occasion moved me to tears, but with City of Glass, he loses his way somewhat.
Its 95-minute running time should suggest a tight operation, every moment captivating the audience with crucial information for the plot, but at times it seemed (perhaps paradoxically) both under-explained and drawn-out.
The final third asks a lot of its audience – a complex philosophical meditation on grief, loneliness and madness that may well lose the attention of some theatregoers, and yet even within this extended epilogue there were moments, lines and visual sparks of indomitable beauty.
Nick Powell's pulsating score erupts with the action into a devastating crescendo as the metafictional plot erodes around the broken figure of Quinn, creating an incredibly memorable epilogue to the piece.
It's not a production that particularly shows off its actors – in fact, the role of Quinn is shared between Mark Edel-Hunt and Chris New in a way that makes the audience almost unsure of which the 'real' Quinn is – but the performances maintain a high quality, and special praise must go to Jack Tarlton for his captivating first monologue as Stillman Jr.
Duncan Macmillan said that on first reading City of Glass as a teenager he was 'dazzled by its formal innovation and sheer weight of ideas', and this is a sentiment that he and director Leo Warner have undoubtedly taken into this production.
It is weighty, it is complex, but it is also a demonstration of groundbreaking theatrical creativity that deserves the highest commendation.