Once in a blue moon, you hear an artist purely by chance and then kick yourself that you had never listened to any of their singles or albums before.
Jessica 'Jesca' Hoop is one such artist.
And she showed Manchester just what they have been missing out on with a stunning performance at Deaf Institute.
In front of an expectant crowd Jesca, 39, didn't disappoint as her set heavily contained material from her new album Undress, which features live recordings off her 2009 album, Hunting My Dress.
With just two guitars and minimal backing singers, she was able to show case what is undoubtedly her most powerful instrument, her voice.
She demonstrated this on the beautifully melodic When I'm Asleep, which she performed without her guitar to perfection and to the joy of fans.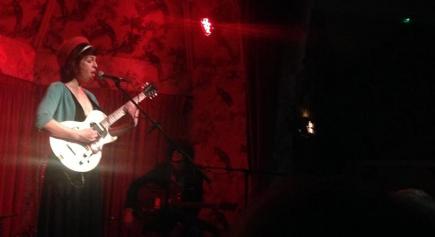 She has come a long way from her time growing up in America, where she was born a Mormon in Santa Rosa, California.
Raised in a musical family she began writing her own songs at the age of just 14 and just two years later she broke away from her strict religious upbringing to try and forge a music career.
And it has paid off as she gets the crowd going wild with her terribly-infectious Hospital (Win Your Love).
It wasn't always like this though as until as recently as 2007 she was just another wannabe artist attempting to make it to the big time.
All that changed though when she was picked up by record label Columbia Records and released her debut album Kismet.
Since then she has gone from strength to strength and has since moved to Manchester.
And her 'local' crowd certainly took her as one of their own as she encouraged them to sing the backing vocals to Dig This Record.
But the stand-out performance from the night was Murder of Birds as the crowd feel silent as she sang the haunting yet also strangely uplifting track.
She recently re-recorded it for her newest album release, roping in Manchester's own Elbow frontman, Guy Garvey, to duet.
After touring with the band back in 2009, Guy encouraged her to move to Manchester, where she's lived for the last four years.
The pair recorded the track in her living room, which Jesca described as 'two dear friends singing a familiar tune'.
Unsurprisingly, she's built herself a cult following, including some of the music industry's most respected artists.
American singer-songwriter, Tom Waits, described her music as being 'like a four sided coin' and that 'she is an old soul, like a black pearl, a good witch or red moon. Her music is like going swimming in a lake at night'.
She's also impressed Genesis legend Peter Gabriel, who took her to South America to sing with him, and has recently supported Eels, Andrew Bird, Punch Brothers, Shearwater, Iron and Wine.
But she didn't need any supporting at the Deaf Institute and she left the crowd in no doubt that it took far too long for such a talent to be heard.
Main image courtesy of Man Alive!, via Flickr, with thanks