We need to stop trying to 'fix' autism sufferers to make them think like us, and instead appreciate the condition for all its life-changing and beautiful characteristics.
That's the message from Ella Carmen Greenhill, whose national-touring play, Plastic Figurines, shares her experience of growing up alongside a sibling with autism.
MM caught up with Ella after the show at the Lowry last week to find out her inspirations and what she hopes audiences across the country will take away from it.
"My brother Michael is on the autistic spectrum. We were told when he was two and a half and I was about 12, and he was my inspiration for the play, my starting point," she said.
"I wanted to look at two siblings who have completely different views of the world and how they then deal with a lot of things that life throws at them, including the death of their mum.
"I wanted to explore that through the lens of someone on the autistic spectrum and look at how they grieve and how their day to day life is challenging but also beautiful."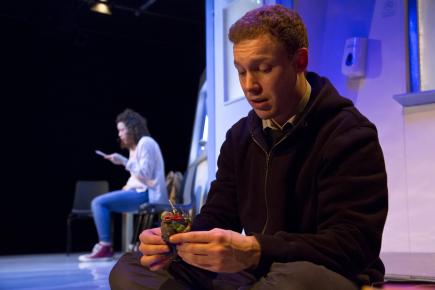 Speaking about the difficulties she had faced growing up, including the death of her mum from leukaemia, Ella recalled an early childhood memory of being on holiday at the beach with her brother, describing how he followed her into the sea and then got upset when the water made him wet.
"I really wanted to explore that idea and by the end of that holiday, I had pictures of him in the sea on his bodyboard! So I kind of wanted that journey within the play; I wanted to explore those difficulties and those things that take a bit longer," she said.
Ella fondly described her love for her little brother Michael, who is now not quite so little – with the pair almost two decades on from when they found out he was autistic.
"He's fantastic; never shuts up, and he's really intelligent, very sociable. He's absolutely brilliant and he's now working and to think about that two-and-a-half-year-old to the brilliant 21-year-old I know now – they're poles apart," she added.
"I think I just wanted to show the beauty of it really and how having someone in your life with autism can help you understand things.
"There's this idea that we need to 'fix' them to make them fit in, but actually if we try to fit in with that person in our lives, that can be really life changing and really beautiful. So I hope the play does that, I hope it shows the loveliness of it."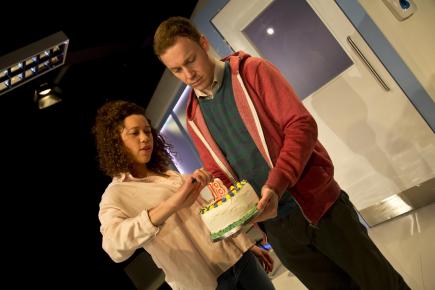 She told MM about the transition and learning process in the play for both siblings as the brother develops and starts to understand more about his relationship with his sister.
"One of the things that I did with that is that Michael can never be wrong, so in the play, his sister said a lot of incorrect things and he replies 'no, that's wrong, that's wrong'.
"But then he begins to realise that it's important sometimes to let her – even if he knows in his heart that it's wrong. It's a really lovely huge moment for him as a character, and I think that's definitely from my own experience."
One of Ella's wishes was that the play accurately portrayed what it was like growing up with a brother with autism, and she was keen to stress that the play was written 'from a place of real inspiration and love'.
"But even now we know so little about it because it's such a massive spectrum," she said.
"It's such a broad spectrum that every single person is different and has individual traits that might be informed by their autism but are also informed by who they are and hundreds of other things.
"For us, it was a scary time, we were told he might never speak, and he's just such a perfect example of how little is known."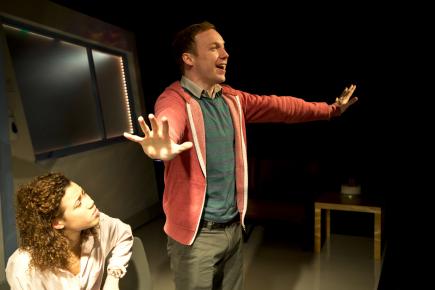 Ella, who has lived in Liverpool for the last 11 years and was formerly writer-on-attachment at Liverpool Everyman & Playhouse, said she wanted audiences to come away from the performance talking about it and making up their own decisions.
"It ends on a lot of hope but ultimately it is down to the individual to decide how they feel about it. I don't want the ending to define the experience of what this play is. It's massively hopeful and really optimistic, actually, I think."
Plastic Figurines toured at the Lowry on May 6-7, and will finish its 15-stop run in the small Welsh town of Mold tomorrow night.
All images courtesy of Lucas Smith / Box of Tricks, with thanks