Stockport's own Blossoms finished their sell-out weekend at the Victoria Warehouse in style on Sunday.
With pints flowing and carnage down the front, you'd think it was a Friday night – but that's the impact they have playing their home town.
Warm-up classics from the Stone Roses and Courteeners blasted from the speakers to get the crowd bouncing before Tom Ogden and the lads even showed their faces.
When they did their now-trademark 80s pop synthesizers glided into I Can't Stand It to set the night's tone and the crowd into a frenzy that rarely subdued for the full set.
Blow, a single from their debut album, climaxed with the chorus belted unaided at the stage, while the spotlights gave Blossoms a moment to appreciate their grip on the 5,000 before them.
Ogdon's stage presence is Morrissey-like, with the shirt and jacket to boot. His occasional theatrical movements are a wave of calm amongst the madness.
So to are emotional Getaway and Love Talk when compared to upbeat Texia and Cool Like You, showing off the band's flexibility.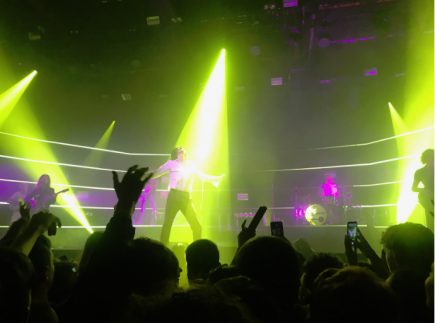 The piercing light beams and LEDs that wrap the backdrop add to the cosmic-pop vibe that exude from the synthesisers and create a unique feel to a band pathing their way in a saturated 'indie' scene.
It was noted by some how the crowd shifted from being predominantly teenage girls on their last tour to people of all ages.
Blossoms now have access to the same loyal Mancunian fanbase who've supported local bands like The Courteeners, Oasis and The Smiths who rose before them.
A highlight for many is cued as Ogden grabs an acoustic guitar and the crowd sing every word of ballad My Favourite Room, but die hard fans know what else the change signals.
Snippets of You're Gorgeous, Half The World Away and Last Christmas then have the crowd in full voice, ending the medley with the now iconic Don't Look Back In Anger.
Blossoms leave the stage for everyone to catch their breath, and they return with At Most A Kiss and pay homage to The Smiths with a well-received cover of Bigmouth Strikes Again.
The two most popular tunes from their two albums There's a Reason Why (I Never Returned Your Calls) and Charlemagne saw flairs flying and sent everyone into one last flurry of pandemonium.
There will have been thousands of dreary eyes as the reality of Monday hit just a few hours later, but I'm sure not one of them would have regretted how they spent their Sunday night.
Blossoms seem to get bigger and bigger with every tour and every album, and after selling out a stadium gig at Edgeley Park in June, the word is now well and truly out.