It's a story of the ages. The dangerous and tortured boy and the wild, indomitable girl, doomed by love and circumstance to their inevitable destruction.
The new production of Wuthering Heights at the Royal Exchange accurately captures the themes of the story. Departing from the frame narrative of the book, the script is well paced, with key scenes intelligently condensed down. Between this are interspersed more abstract moments, making inventive use of music, lighting, and chorus work to highlight the passage of time, or a significant plot point. 
Although it's a strong attempt to capture the intensity of the famous lovers' bond, the dialogue feels over-written at times. Some lines are a little too on the nose, with characters saying explicitly what they are feeling in transitional scenes rather than allowing those emotions to reveal themselves more naturally.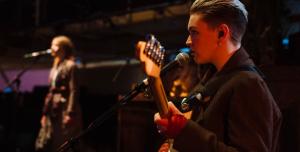 Live music is used excellently throughout the performance. Musicians Sophie Galpin and Becky Wilkie play a mixture of cutting electric guitar, drum machines, and close harmonies reminiscent of The Unthanks. They provide an excellent backdrop to the cast and story.
For themselves, the cast are strong, well-drilled, and gel effectively together as an ensemble. 
Samantha Power's Nelly provides a strong moral spine to the seemingly lawless world of the story, her fierce repudiations and dutiful, honest love coming across well. Of all the cast, she changes the least, a stalwart constant throughout the chaos and degradation around her.
Earnshaw, the morally upright patriarch at the start of the story, is brought to life with vigour by David Crellin. He moves well between the doting and the disappointed father, one scene between him and Hindley standing out. Crellin shows us effectively the transition from charitable patron to morally compromised father.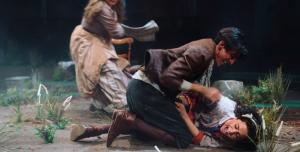 In contrast, Gurjeet Singh's Hindley exhibits excellently the fall of a man who could never quite be enough. Singh manages to show with nuance and intelligence the powerlessness of Hindley as he desperately seeks approval from any quarter. For all his intimidation, bullying, and hateful gloating, as well as the play's most gruesome moment, he never exudes the aura of darkness and menace reserved for his nemesis. 
Dean Fagen's Edgar meanwhile, is as irritatingly compliant and affable as he could be. He communicates well the sort of man who is sensitive, sweet, attentive, kind, and completely sexless. Fagen's performance sits comfortably amongst the more dominant characters that surround him. Edgar's impotent entitlement is well realised here, though can at times be lost in the script playing Edgar's submissive nature for laughs.
Rhiannon Clements takes on both Frances, Hindley's wife, and the ill-fated Isabella. It was disconcerting to see Isabella's desperation to find a husband played more in the style of Bridget Jones. That said, the initial levity of Clements' performance lends more weight to Isabella's heartbreak. From wide-eyed fawning, Clements shows us the birth of a survivor.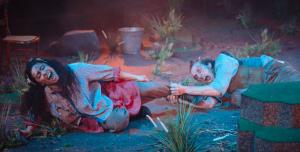 At the centre of Wuthering Heights is, of course, the legendary bond between one of literature's most doomed couples. The production gives a convincing portrayal of the shift from wild, childish abandon to tortured, constrained adulthood which is so important to this story. 
Cathy, played by Rakhee Sharma, depicts the innocent, unworldly girl with great physicality and verve. She is the loquacious foil to her mute companion, jumping, dancing, and shouting. The shift from free, wild Cathy to the prim and dressed-up lady is compelling. Sharma does an excellent job of constraining and controlling her movement, becoming increasingly static and physically passive as Cathy settles into her comfortable, middle-class life.
However, of all the dialogue, Cathy's is that which most often seems over-written, and at times Sharma seems to struggle with it a little. Nonetheless, she gives a strong performance, showing us at once Cathy's vulnerability and her ferocity. 
And so Heathcliff. Snarling, hissing, panting Heathcliff. Alex Austin takes on the role, portraying the innocent foundling turned monster with great range. Far from the brooding, gothic interpretation we are accustomed to, we begin with a frightened boy. Heathcliff is wild, but innocently so. Although this works conceptually, it somehow just doesn't seem to sit right. Austin acts well, but at times the wildness and childishness appear forced.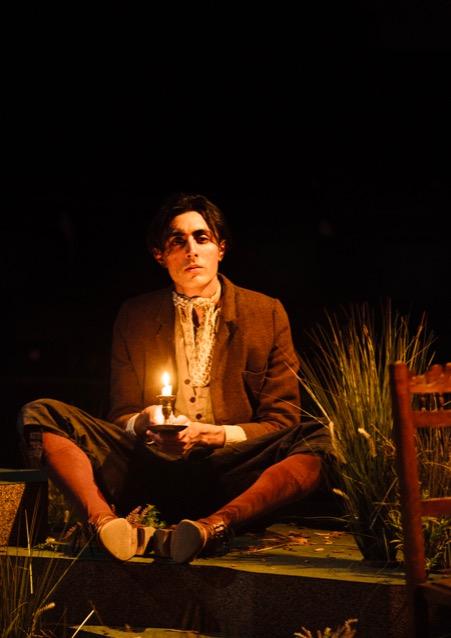 Austin really comes into his own after Heathcliff's transformation. From wide-eyed boy and abused teenager, we finally get Heathcliff the man, although not the brooding Byronic hero we are used to. In a voice and mannerism that seem to channel the Kray Twins more than Manfred, Austin fairly exudes menace. 
Together, Sharma and Austin create a strong bond. The tenderness that Cathy can draw from Heathcliff comes across, even as he enacts his suicidal revenge. Heathcliff's rage and final calculated destruction of his abusers are evocatively accomplished.
Although at times the dialogue is a little on the nose, not to mention having our lovers literally howling together, the love between Heathcliff and Cathy is nonetheless well consummated in this adaptation by Andrew Sheridan.
The production has a strong ensemble cast, and has been directed and written in a way which sensitively reimagines the story. It is always difficult to condense a long and complex story down, and it is managed well. The production is a little overdone sometimes, but at its heart is an earnest and intelligently realised attempt to recapture the vision of Emily Brontë.
*Wuthering Heights is showing at Royal Exchange, Manchester until Saturday, March 7. You can buy tickets HERE.