When three-fifths of Reading band Pete and the Pirates left the group for other things in October 2012, people could be forgiven for not expecting such an immediate return.
But that is exactly what happened for Tommy Sanders (vocals, guitar), Jonny Sanders (synths) and Pete Cattermoul (bass), who re-appeared as Teleman in November 2012.
On November 22 that year, their first tweet from @Telemanmusic was simply a link to a song on SoundCloud called Cristina – the cool and groovy, synth-heavy track that made their name.
Last night at Deaf Institute, this song appeared halfway through proceedings – once the band had given themselves time to settle into things.
Cristina is just one of several tunes to have already been released via the band's YouTube and SoundCloud channels, and other releases 23 Floors Up and Lady Low quickly followed – to good effect.
The rest of the setlist was a chance for Teleman to play the remaining songs from their forthcoming album, Breakfast, released on June 2 on the Moshi Moshi Records label.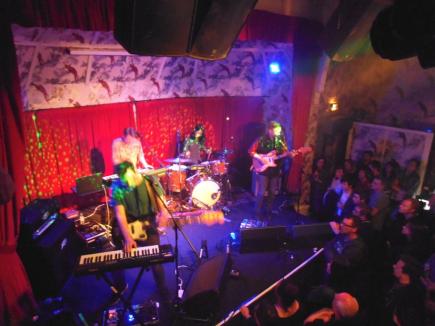 LET LOOSE! Teleman could do with relaxing a little live
Most of these tunes went down well with the intimate crowd of (mainly) 30-somethings, but the atmosphere was just a little too hushed and polite.
The gaps in between songs were not filled with anything other than a strange silence – someone was heard saying: "This is the quietest gig I have ever been to!"
It was not helped either by the band's lack of interaction with the crowd, only saying a quick 'thank you' after each song.
But perhaps this is just something they need to learn – and quickly – before embarking on the festival season later this year, which sees them play Secret Garden Party, Deer Shed Festival, Wilderness Festival and Green Man Festival.
It was a chilled out evening nonetheless, with some good tracks to nod your head to.
The highlights were the catchy pre-released numbers – especially Cristina, which has had the best reception online with more than 72,000 YouTube hits and 85,000 plays on SoundCloud.
Steam Train Girl is a minimalistic, understated track that builds up to an airy synth chorus, mixed with some nice electric guitar piercing through in the background and a bobbing base line.
23 Floors Up is a cool, bittersweet-sounding track – lead-singer Tommy singing 'Oh love is pouring down / Don't need anyone now / So slowly spinning round / Can't feel anything now'.
It will be interesting to hear the rest of the album when it is released next month.
They have a fairly unique sound – relaxed and melodic – like Franz Ferdinand after a few cocktails.
It makes really good listening and is a style that grows on you by the minute.
In the next seven days, they head to Birmingham, Reading, Bristol, Southampton, Cambridge and London.
With the first two gigs on the tour done and dusted, hopefully they can build on the positive signs they have received and start to engage with the audience more – even if just to ensure people don't feel awkward stood there watching them.