We've seen him bungee jump from a tree, climb Mount Fuji and even eat – well spit out – a three-year-old fermented fish.
However, when Karl Pilkington was asked about what he would do with the power of invisibility, his response was lucid: "Just, sort of, wander about and that and just not get seen."
Sale-born Pilkington, currently set to star in the second series of buddy Ricky Gervais' comedy Derek, who his may well be hopelessly out of his depth but you can't help but love the man – or should I say – the 'idiot abroad'.
After watching plenty of an Idiot Abroad – or 'researching' – we've reached MM's top five Karl Pilkington quotes.
5) Karl Pilkington on ageing
Forget bothering with those expensive face creams and take on Pilkington's Benjamin Button philosophy of ageing.
"Well…like, when you're born, you're a little baby, you're wrinkly and stuff, when you get older you sort of morph into a baby again."
4) Karl Pilkington on Easter eggs
Easter is known for its delicious chocolate treats while remembering the crucifix and resurrection of Jesus Christ, however, Pilkington doesn't quite agree with this tradition.
"We're gonna remember you, Jesus.
"It was like, 'Great, what are you gonna do?' We're gonna have an egg. 'You what?'"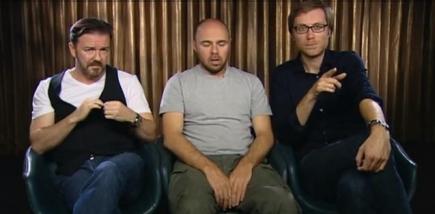 FUNNY FRIENDS: Karl Pilkington (centre) with comic dynamic duo Ricky Gervais and Stephen Merchant (©TheCelebFactory via Youtube with thanks)
3) Karl Pilkington on art
Forget investing in expensive pieces of art to cover your walls, and take on Pilkington's approach – just get more windows.
"Stop looking at the walls, look out the window."
2) Karl Pilkington on food
You've all heard Gillian McKeith's phrase 'you are what you eat' – well Pilkington's has a postmodern approach of his own.
"Where you are is what you eat. When I'm in London, I'll have beans on toast for lunch. On holiday — what? Tapas? Go on then I'll have a bit. You eat whatever's in that area."
1) Karl Pilkington on nativity plays
Remember the devastating moment of getting cast as Shepherd number seven when all you wanted to be was Mary or Joseph? Well, Karl has a solution to this too.
"This is the problem with over-crowded inner-city schools, there aren't enough parts for everyone in the nativity story."
Image courtesy of Rich Walker with thanks