The 80s are back in full force in Manchester – but for one week only.
That's because An Officer and a Gentleman has just touched down for a six-day run at the city's Opera House.
It's fair to say that the majority of people are familiar with the 1982 film on which this musical is based. Even if you don't know the plot by heart, the iconic final scene in which Richard Gere carries Debra Winger is firmly a part of cinematic history.
This show's plot doesn't stray far from the film, which focuses on Zack Mayo (played by Jonny Fines in this outing) as he enrols at an aviation training facility in Florida. Along the way he meets factory girl Paula Pokrifki (Emma Williams), with their romance providing a chunk of the action.
The film, of course, relied heavily on dialogue. Meanwhile, this musical chooses to throw out a load of 80s anthems to move the plot along.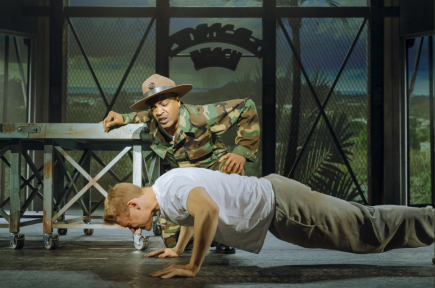 In theory it's a good idea. But there are one or two instances where the covers lack the same oomph as the originals. This is certainly true when Paula and Lynette (Jessica Daley) perform a rather lifeless version of Cyndi Lauper's Girls Just Want To Have Fun in Act One.
The rest of the tracks – rather satisfyingly – hit the spot. In fact, even those that appear thrown in just for a dose of nostalgia are well-received by those in attendance.
A particularly strong rendition is St Elmo's Fire, which is full of energy when it's performed by Drill Sergeant Emil Foley (superbly played by Ray Shell) and the candidates before the interval.
Let's be honest though, the success of this musical is always going to depend upon how well they manage to pull off that closing scene. It's cleverly teased throughout, with the occasional instrumental of Up Where We Belong in the background.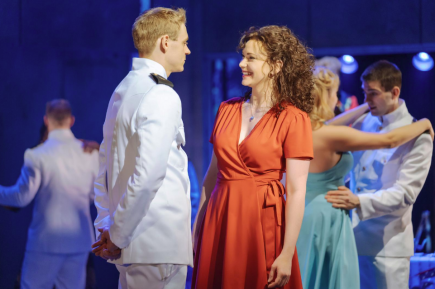 It's clearly enough to have people on the edge of their seats when Mayo – who by this point the audience have completely fallen for, thanks to the charismatic Fines bringing the character to life – arrives to claim his girl.
It's just a blur of bright lights and pure cheese. It's perfect.
The film An Officer and a Gentleman was a financial and critical success upon its release, even bagging itself an Academy Award. The musical, therefore, had big shoes to fill.
Is it perfect? No. Does the odd line fall flat? Yes. There's no denying that it's a great fun though – you'd be hard-pressed not to enjoy it!
After all, the final number alone is worth the price of admission.
*An Officer and a Gentleman is showing at the Opera House, Manchester until Saturday, August 18. You can buy tickets HERE.