Morrissey, love him or hate him, is an undeniably large icon in pop culture. 
When The Smiths rose to prominence in the mid-80s, it was Morrissey's lyrics, eloquent and of full of wry humour, that caught so many people's attention.
Morrissey became a beacon for the alternative kids of the age, for the outsiders who read books rather than played in the street, for those who stayed inside listening to records, and for those who dreamt of escaping wherever they were.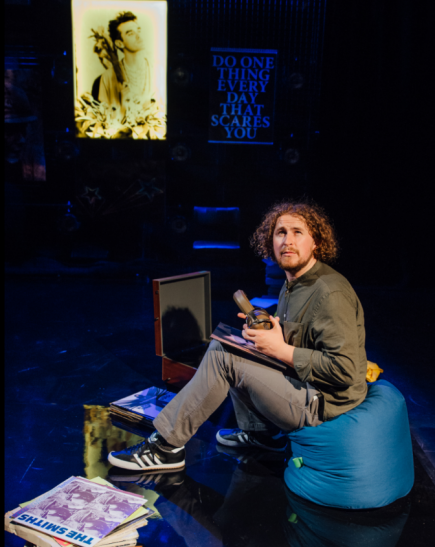 DREAMING OF ESCAPE: Performer Gary McNair relives his 80s adolescent years listening to Morrissey records
Gary McNair, who wrote and stars in this one-man show, was one of those kids.
After a successful run in Edinburgh's Traverse theatre during the Edinburgh festival, Letters to Morrissey has come to Manchester's HOME theatre.
Performed in HOME's Theatre 2, the simple yet highly effective staging is utilised throughout the show.
NME magazines and school books are strewn across the floor, Morrissey's signature gladiola in a vase next to a vinyl player and, most ingeniously, the mixed use of strip and spot lighting to switch between classrooms, a counsellor's office and Glasgow's infamous Barrowland Ballroom.
However, the show isn't just about Morrissey, in fact it isn't really about him at all.  The subjects it deals with are much more universal – you definitely don't need to be a Morrissey fan to relate to McNair's story.
McNair himself is infectiously enthusiastic when talking about the show.
"The show is really much more about me through a Morrissey filter, but wouldn't you expect a show about a Morrissey fan to be nothing but navel-gazing and solipsistic, echoed through the chambers of this iconic narcissist hanging over your head," he told MM ahead of Tuesday night's opening show.
"But that's not it.  It's not about Morrissey, it's about fan-ship and hero-dom, and idolisation of people, and where we put our faith when we don't have people around us that we can put our trust in."
Be warned though, people expecting to hear plenty of Morrissey's music in the show could be disappointed. 
Yet this was intentional.
"We made the decision not to use much Smiths or Morrissey music in the show, because you can't control someone else's nostalgia," said McNair.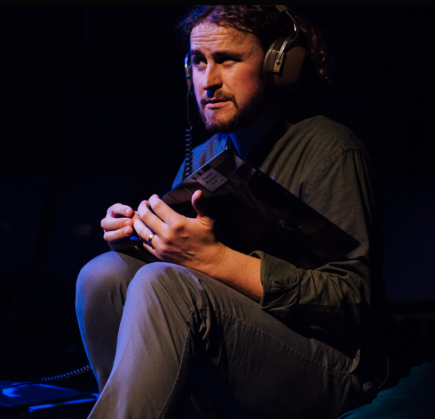 NOT ABOUT MORRISSEY: McNair told MM the production was more about "fan-ship, hero-dom and idolisation of people" than about The Smiths frontman
"The music is very emotive for people for all different kinds of reasons."
The show is, instead, about the struggles of growing up, the different dilemmas that anyone could face, and ultimately clinging on to anything – in this case a pop icon – as a coping strategy, to use as an emotional outlet.
Both heart-warming and heart-wrenching, McNair's performance is animated, but never over-the-top or cheesy, which can be the downfall of so many one-man shows.
In the end, Letters to Morrissey is a lot like a Smiths song: light and dark, comic but poignant, and unashamedly wearing its heart on its sleeve.
Letters to Morrissey is on at HOME until Saturday Sept 16.