All the way from LA, Lo Moon are clearly psyched for their two Manchester dates alongside London Grammar next week.
Already at the forefront of the blossoming indie scene on the west coast of the USA, the band comprises frontman Matt Lowell (vocals/guitar) from Long Island (above middle), half Filipino Crisanta Baker (bass/keyboards) from Denver who previously playing in an all-girl punk band called 'Surf Riot' and Londoner Sam Stewart (guitar) – the son of Dave Stewart (Eurythmics) and Siobhan Fahey (Shakespeare's Sister and Bananarama).
MM caught up with Lo Moon ahead of their Manchester 02 Apollo sets on October 17 and 20.
Thanks for your time guys! Who are your biggest musical influences?
The Blue Nile, Prefab Sprout, Talk Talk, Vangelis, Badalamenti, and so many others!! 
When did you first realise you wanted to become artists? 
Matt: We all fell in love with music from a pretty early age. For me I know I wrote my first song the day 9.11 happened. That moment struck something in me. I felt I needed to respond in my own way. Haven't really looked back since. 
How did you get to know each other before the band took shape?
Matt: I moved to LA 3.5 years ago with "Loveless" and a few other songs. I met Crisanta through a mutual friend shortly after I moved and showed her the music.
I knew she was looking to join a band at the time, and she loved what she heard. We approached Sam pretty much the same way, I sent him some music and he got excited.
It was all very organic in that way. The music made the connection for us.
What impact do you want your music to have on listeners? 
We want it to be an experience. We want them to leave with an emotional connection. That's when we feel we've accomplished something. We hope that the music invites them and brings them deeper into our world.
What are your goals as a band? Where would you like to be in 20 years time for example. 
We want to build a very loyal fan base. It's important for us to keep pushing ourselves as a band, and to continue to grow as a live act and make great records.
Right now we want to keep the focus on taking it step by step, and moving forward every day. We're keeping our goals short term!
Can we expect more music from you in the upcoming future?
YES!! Very soon.
You famously took your time after the release of Loveless to air another track – was this a possible message to other one-hit wonder groups stating 'You're here to stay'?
We felt like it was important to let "loveless" live in the world. We were starting something out of nothing, and taking our time just seemed like the best way to do it.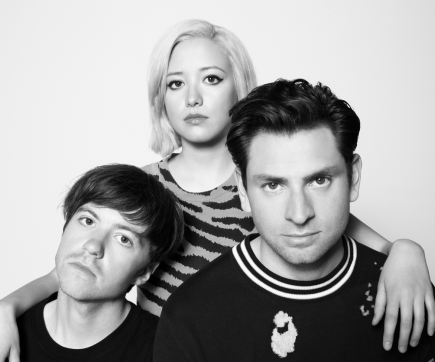 STRUCK A CHORD: Frontman Matt (right) says he wrote his first song on September 11, 2001, the fateful day terrorists attacked the heart of America in New York killing thousands 
We knew it would take time for people to discover us and we didn't want to rush out too much before that. 
What advice would you give to other aspiring indie bands?
Just keep on it. I think it's important to try and find a unique voice and one that inspires you. Commit to the time it takes!
You've spoken of Radiohead as untouchable before – why's that? Are they the greatest band of our generation? 
Definitely way up there.
How does it feel to be touring with London Grammar? Do you know them personally and do you listen to their music? 
Yes it's amazing that they asked us to join them! We've met them a few times, they're a beautiful band!
Finally what does it mean to you to be playing cities like Manchester? 
We are very happy and excited to be here! Manchester has been through a lot and we are excited to have a beautiful night with London Grammar.