Beardyman, who first rose to fame with his comical and crazy beatboxing skills nearly 10 years ago, has evolved into an artist who knows what he wants and isn't afraid to make it happen.
After taking some time out, the 36-year-old has become a father, created a brand new album, and has perfected a sophisticated piece of kit which allows him to make sublime and multilayered music in real time, the Beardytron 5000.
With his latest offering  'Distractions' done and dusted, and a new show hitting Sankeys on Saturday night, MM got the hyperactive one man band in for a chat about the project, his progressions as an artist, and dreams of calling his son Lazor Wolf.
"I was a lot younger when I started beatboxing and I always enjoyed the idea that I could be a mouth musician and I was winning lots of battles", he says.
"That whole scene is built on competition and is quite gladiatorial which is healthy as is make you want to be better and better at beatboxing but it also engenders a kind of purism which I'm not so keen on. I like to mix things up and use whatever tools available to make the music I want.
"In that respect I was always dissatisfied with the limitations of beatboxing which is why it's so great to be doing something I find so creatively enriching right now."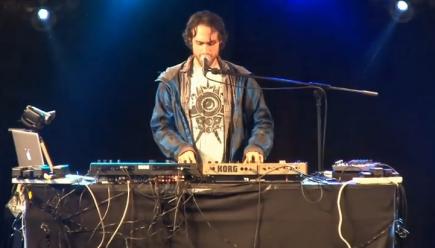 ON THE DECKS: The 36-year-old will play Manchester this Saturday, November 15
Using his incredibly advanced music system, Beardyman's album dabbles in a plethora of genres, from techno to breakbeat with some heady house flavours to boot.
The spontaneous nature of his sound is well disguised, the album as an overall piece of work is fluid, interesting and well throughout.
"When I play live shows each night is completely different and I never know whether it's going to be a banging techo set or a tear out drum and base set or punk or dancehall raga", he says, "It might be playful balladry, but I would say it's always a balanced bunch of genres but I never really know what I'll be bouncing off.
He adds: "I still beat box in shows but I do it as an encore. I've done 15 minute encore, but I don't like to frame the show as a beat box set I like to just do the show which is a well-rounded fun engaging musical workout and then do the beatbox at the end which always ends things on a crazy high note."
These clever and dancey sounds are only possible because of the Beardytron 5000, something that has taken almost a decade and a team of tech whizzes to perfect.
Last year, the South London born musician discussed his equipment when he was a key speaker at the global TED conference in LA. He unveiled the latest stage to his real-time music production system to showcase what he believes the human voice is capable of.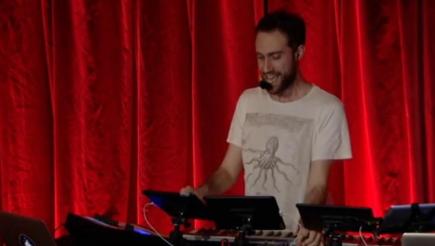 IN HIS ELEMENT: Beardyman doing what he does best at a live show
"I've been on a crazy mission for the last eight years to retool and hobble together the system I need to make the music I hear in my head. Little by little painstakingly with a lot of investment if money and time I finally got where I any musical idea I have I can create it in half a second", he says.
Beardyman adds: "I was doping lots of cover based beatbox stuff and that's been eschewed for unrestricted musical creativity from some zero point where I know that there's limitless potential."
After taking some time to work on this amazing software and go down a new path, the creative musician, at times, feels at odds with his stage Moniker.
"Beardyman's a stupid name as it's weird that I'm known as the beardy beatboxers, despite the prescient fact I don't really beatbox so much anymore and I don't have a beard, so I'm living a horrible lie," He says, laughing.
He continues: "I wanted to call my son Lazerwolf, there is a character in Fiddler on the Roof called Lazorwolf and I think that's just so cool.
"He's not called Lazorwolf, he's called Theo but I still like Lazorwolf and I may change my stage to it. Maybe I'll call my next child Lazor and my next child wolf, who knows, the possibilities are endless."
Charismatic, innovative and bubbling with ideas, Beadyman has left the comfort of the thing that propelled him into the public eye and is sailing seamlessly into new charters, at the helm of an incredibly well-oiled piece of kit.
His vision, curiosity and deep understanding of music are what mark him apart today and keep people entertained, whatever he throws at them.
Images courtesy of Montrealmetalshows and BBC, via Youtube, with thanks.