Get out your dust-covered CD's and prepare to Macarena down memory lane because the Big Reunion boys are back on tour this autumn in Manchester.
Up and down the country, thousands of 30 something's will be fan-girling like it's 1999.
Classic boy bands 5ive, Blue, 911, Damage, A1, 3T  and newly constructed supergroup 5th Story will take the stage for a 15 date tour.
This truckload of testosterone will be making its way across the UK as bands from the television series come together to deliver the old hits, some decade defining dance moves and nostalgia in bucket loads.
Moss Side's own Simon Webbe is pumped to be back playing in his home town with Blue at the Manchester Arena.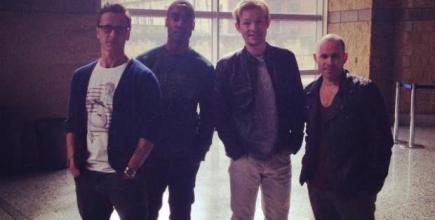 BIG REUNION: 5ive's Ritchie, Blue's Simon Webbe, Adam Rickitt and 911's 'Spike'
"Me and the boys have been performing all over Europe but this is the icing on the cake and arena tour in the UK, that's the one, it's your back yard, that's where you really want to be," he told MM.
On meeting more members of this brotherhood of second chances, it becomes clear that the tour is more than just a selection of shows.
It's been a therapeutic experience for some.
Coronation Street cutie Adam Rickitt makes up one-fifth of the new band 5th Story, along with Blazin Squad's Kenzie, Another Level's Dane Bowers, Gareth Gates and Kavana.
And Rickitt spoke about his excitement for the upcoming tour with his new band buddies.
"I've enjoyed it so much more this time round, and I genuinely miss not being with the guys, we're always looking for excuses to meet up because we're all over the place at the moment, so it'll be great to be on tour," he confessed.
Opening up about the demons faced out of the spotlight, Rickitt admits it was tough, and spoke about bandmate Kavana's battle with alcohol.
"Everyone who has been in the big reunion has, to varying degrees, hit rock bottom and been broken at some point.
"Most of us have picked ourselves up and put ourselves together again but Kav is still going through that process, he is still fighting and to me he is the bravest one of us all because he's the one who is fighting every day," he said.
With nineties nostalgia in full-flow, this tour is the product of ITV's hit show,  which was devised by TV stalwart and Live and Kicking legend Andi Peters, who also narrates the show.
Although it provides a welcome blast from the past, it's also had a real impact on some of the stars futures.
Earlier this week it was announced that 5ive's Richie Neville and Atomic Kitten's Natasha Hamilton are expecting a child together.
Speaking about the news he described it as 'a thoroughbred poptastic conception'.
"We've known each other from back in the day but we were reunited through doing the show, I've always wanted to be a dad so it's great," he said.
"If I hadn't of said yes to the show life wouldn't be what it is now."
So get ready to boogie at The Big Reunion Boy Band night and buy yourself a ticket here.
Main image courtesy of BBC via YouTube, with thanks.