Manchester commuters treated to spontaneous Shakespeare performances on the Metrolink yesterday morning in honour of the legendary playwright's 450th birthday.
The actors, wearing traditional Tudor dress, were hard to miss in the crowd as they recited famous extracts from Shakespeare's plays ranging from murderous monologues to declarations of love.
The mini-shows come ahead of GB Theatre Group's performances of the tragedy Macbeth and comedy The Comedy of Errors at The Lawns in Spinningfields this weekend.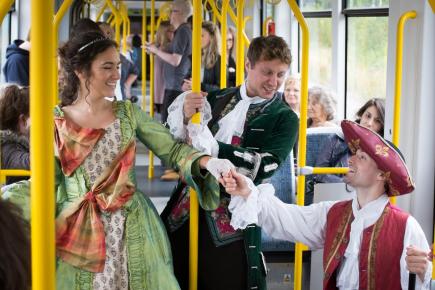 MERCHANT OF BESSES: Actors put on a show for commuters
Because the group are not Manchester-based, local actors got involved in the celebrations by helping to organise the antics.
The public had mixed reactions to the performances, with some loving the morning entertainment while others were more sarcastic and took the opportunity to thrust the dagger into Metrolink – ala Richard III:  
Loving the Shakespeare actors on the tram today! @MCRMetrolink @Spinningfields #allabard pic.twitter.com/BKG6OiIqvO

— Lindsay Harper (@Lindsay_Harper) July 15, 2014
Just when you thought @MCRMetrolink couldn't get any worse…pop-up Shakespeare performances on the Didsbury line today… #AllAbard

— Jonny Wilson (@IrishJonny) July 15, 2014
@Spinningfields Some are born late, some achieve lateness, and some have lateness thrust upon them #MCRmetrolink #TFGM #AllAbard #Manchester

— Matthew Corrigan (@CorriganMJ) July 15, 2014
Very glad I avoided the metrolink this morning… impromptu Shakespeare at 8am, no thanks #metrolink #manchester

— Nicola Hynes (@nicola_hynes) July 15, 2014
Founded in 2010, GB Theatre Company produces some of the country's most spectacular open-air theatre, bringing classic plays to audiences throughout Europe with their star-studded casts.
Joyce Branagh, brother of Shakespeare film veteran actor Kenneth Branagh, will play the part of Lady Macbeth during both performances of the Scottish tragedy, working alongside Mia Keadell, Aonghus Weber and Jenny Johns among others.
The company said: "[We] are delighted to be performing William Shakespeare's classic farce The Comedy of Errors and his greatest tragedy Macbeth at The Lawns in Spinningfields at the heart of Manchester."
For more information, if you would like to see one of the plays at Spinningfields this weekend go to the Spinningfields website or the GB Theatre Company's page to book tickets.
Images courtesy of Simon835 and Tony Snesbo with thanks