An LGBT eight-piece troupe are going for laughter gold at the Women in Comedy Festival with a side-splitting mix of styles.
Topping the bill at the Salford's Kings Arms is the Short and Girlie show, made up of eight lesbian and bisexual women, who will be stopping off in the city as part of their 14-date Spreading The Love tour.
The show combines improvisation with stand-up and musical comedy and is a regular on the LGBT circuit.   
Producer and performer Ali Hendry Ballard, 45, told MM: "I cannot wait to be playing the festival because it's had such a buzz around it since it started and it's really been in demand.
"I feel so lucky that we've been asked to play it and I'm really looking forward to the Manchester audience because I just think they're going to be so up for it.
"There are eight performers in our troupe and we've all got very different personalities and styles of comedy so whatever your style of comedy you are going to find something bloody hilarious!
"Some of us are quite slapstick, others are more theatrical and we have two girls who perform musical comedy which is so clever and very funny.
"Half of our show is improvisation so we'll ask the audience to give us a word or a topic and then that can literally go absolutely anywhere."
Now in its second year, The Women in Comedy Festival will run in Manchester from Saturday October 11 until Sunday October 26 and features more than 80 shows across 16 venues.
More than 125 acts are set to appear including big names such as Jo Caulfield, Zoe Lyons, Janey Godley and Stockport's Barbara Nice.
Although it's an all-female line-up, Ali insists all genders, race and sexualities are welcome.
She said: "Although our sexuality doesn't shape what we do on stage and isn't the centre of our material I think it's a really great thing that audience members from the LGBT community can come along, watch our show and then leave thinking 'isn't this really good what they're doing'.
"We do tend to promote a lot of our shows in the gay press but everybody is welcome. On this tour so far we've had a really good mix of people coming to the shows so I don't feel like we've had to work in any other sort of way or work any harder to win them over because we're female."
The eight-piece are currently the longest running all-female comedy troupe in the UK and have recently sold out a string of shows across the country with their Short and Girlie Show.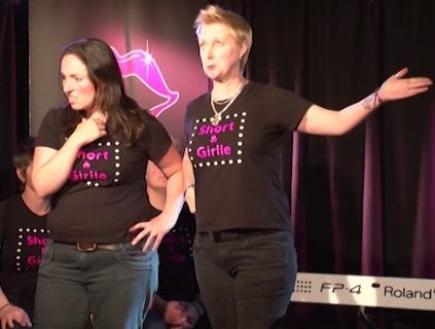 SISTER ACT: The eight-piece are travelling all over the UK (©Short and Girlie via YouTube with thanks)
But despite their huge success, Ali says it's still very much a man's world when it comes to comedy.
She said: "I do think festivals like this one are still very much needed because there doesn't seem to be an equal amount of women and men appearing on most bills.
 "I mean there's always going to be the debate isn't there where people are going to say 'why do you need your own festival? Why can't you just appear on the same bills as everybody else?'
"But unfortunately when you do look at a lot of the line-ups at stand up nights in the country you'll only ever see one female on there.
"I think comedy has been male dominated for so long and the big names and role models over the years have tended to me males, but I have no idea why because women are bloody funny."
Ali and the girls will appear at the Kings Arms, in Salford, for the Short and Girlie show on Saturday October 18.
For ticket information, click here.
Image courtesy of Short and Girlie via YouTube with thanks