Manchester has a righteous tradition of insisting on being the UK music capital but the old city has been a little quiet of late. 
Meet PROSE, three Trafford lads producing meaningful raps over acoustic-hip-hop melodies here to liven things up.
PROSE defy genre because in the fiercest way, they are a genre of their own. They take the best of what has come before in the city and blend it all together: Mike Murray's passionate bars mixed in with breath-taking instrumentals courtesy of Lee Royle and Dave Stone stem from the emotional eloquence of Oasis, the street poetry of John Cooper Clarke and the psychedelic ambition of The Stone Roses.
After being signed by high profile Brit producer Naughty Boy to his own record label, the Manchester band have been on a steady upwards trajectory and proving themselves to be an incredibly promising new voice in British music.
MM caught up with lead guitarist, Lee, to learn more about the past, present and future of his time in the promising band ahead of their own UK headline tour in November.
First off he told us the tale of how he picked up his beloved instrument….
"I started learning how to play the guitar in year seven or eight, it wasn't even me who signed up for the lessons. My mate put my name down as a bit of a joke but I knew the teacher, he was my football coach then, and so I went along. The first song I learned to play was 'Wonderwall' by Oasis."
Manchester's music scene has generated truly incredible artists which left Lee not lacking in inspiration.
"I'd say my two biggest inspirations are Noel Gallagher and Brian May. I grew up listening to a lot of Oasis and my parents would listen to Queen. They are quite humbling guitarists, their solo sections in songs are fantastic but not flashy, both of them don't show off too much."
The trio grew up on the same street and started to write songs, jam and play at open mic nights over seven years ago. Since then, the band has gone on to carve out a unique sound from a city that has always worked new ideas into the indie music template. What is it about Manchester that brings the best out of such great artists?
"The weather. The mood. Manchester has its own buzz about it, there are only around three great cities in this country and Manchester is definitely one of them. With all the universities around too, the city is quite youthful and that's what's so good about it."
Aside from being signed by Naughty Boy, the band has received support from BBC Introducing and for them to hear themselves on the radio must have been an unforgettable experience.
"It was crazy. The first time our song was on the radio we were expecting it but it's when you aren't told about it being on and then you just hear your tune playing. That's crazy."
Their lyrics come from personal experiences, their families and personal stuff. The three-piece of avid Manchester United fans are finding the perfect way to express real life stories through beats. They released their debut album 'Home Of The Brave' earlier this year and are already working on the next one.
"We don't want to bring out albums with three year gaps between them so hopefully we can bring out album number two for next summer. Our first album went down really well and we are already back on writing the next one."
The band headlined the NBHD festival in Manchester that spread across multiple intimate clubs and bars. Lee said it was a great turn-out and they experienced their first ever mosh pit. On Oct 27 they support JP Cooper ahead of their very own tour in November.
"I'm most looking forward to travelling around the UK of course but it's the consecutive nights of playing set after set which excites me most. Some days there are breaks in between the gigs but we have some weeks when we play three gigs night after night."
You can listen to 'Home of the brave' on iTunes, Apple Music and Spotify and for further information on live shows and tickets visit www.prosemusic.com.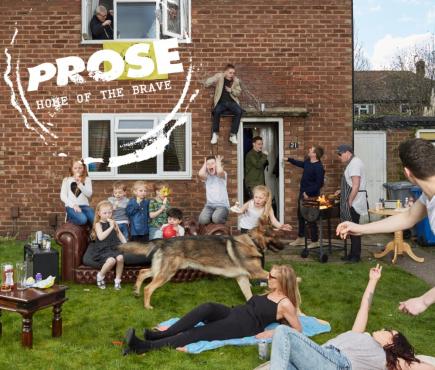 PARTY ANIMALS: PROSE's exciting sounds can be heard alongside JP Cooper on October 27 and on their own tour next month