The decor of Man Bites Frog is astonishing.
An eclectic mix of portraits, images and religious iconography are scattered over the walls.
Independent owner David Warren has ensured that every nook and cranny of the French restaurant and bar offers up a visual feast.
There is a warm quirky aura to the Chorlton establishment. The small wooden tables and chairs have a rustic and homely appeal. The bar in the far corner is a lavish wooden slab, ornately decorated with fairy lights and even more over-hanging paintings.
The bar serves up a variety of ales and lagers, the service are friendly and are quick to offer up recommendations. The team appear to be close-knit with a genuine fondness for the establishment.
The food was served in-between the acts. The 'Breast of Wood Pidgeon' starter was a gamey delicacy. Although MM enviably watched as the vegetarians lapped up the 'Cream of White Onion and Cider Soup' which looked like the better option.
The 'Guinea Fowl and Leak Chausser' main course was rich and delectable dish, even if it was on the meek side.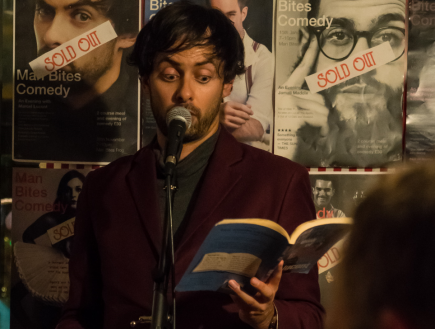 HEADLINE ACT: British comedian Alexis Dubus delivers his staunchly French nationalistic ramblings in his 'alter ego' of Marcel Lucont
The compere for the evening, Will Hutchby, began in a light and amiable manner – involving the audience, who rose to the occasion.
A gentleman going by the name of "Nanny" was questioned over his choice of seat since he was sitting in an armchair and he fired back that it was brought for him.
In moments like this Hutchby brought the room together affably, nevertheless material about his father seemed unremarkable – a long lead up with an underwhelming punchline.
The support act Lou Conran had a fiery set. She once again invited audience participation, who again happened to outshine the act onstage.
She asked a lively audience member to stand up to see if any women would be interested in snatching him up and he shot back that he already was stood up, making a joke out of his short stature.
Conran's set was overly crude with much of her material about her promiscuity. One unfortunate lengthy bit involved her acting out receiving sex up against a wall.
The headline act Marcel Lucont brought more decorum to the evenings with his snarky musings. Lucont is a staunchly nationalistic French character, played by British comedian Alexis Dubus.
Because Lucont is a character birthed from an altogether British stereotype of the French, there is a charming tongue-in-cheek nature to his derision of women, the British and indeed the audience.
He performed a mix of stand-up material that comprised of one-liner gags and poetry. A notable section of his act involved beat-poetry, where he suggested various methods of dumping one's lover and running away.
Lucont's biggest laughs came from Dubus' exceptional improvisational skills. A couple told him that they spent their first date watching him on-stage a year previous at the first Man Bites Comedy event.
Lucont surmised that they must have come back to see him so they once again could gaze upon the definite article of a man, gesturing at himself.
Man Bites Comedy continues on October 22 with Barbara Nice headlining the event.
Images courtesy of dexterfreshman via Instagram, with thanks.