The boys from New Rules are funny, but I get the impression they can be a bit of a handful.
While a couple jokes might not be suitable for print, MM's overriding impression gleaned from talking to the trio is how happy they are to be doing what they love.
The pop band, consisting of Nathan, 21, Ryan, 19 and Alec, 18, have a clear sense of camaraderie despite only forming as a group just over a year ago – but Nathan takes the lead in our chat just like he did in the formation of the group.
After leaving his previous band he messaged Alec after seeing him play online, before they both convinced Ryan to come over from Dublin.
In the space of just over a year New Rules have performed one headline tour, supported American superstar Julia Michaels and had their single, Fix Somebody, feature on Love Island. The latter is arguably their greatest achievement so far.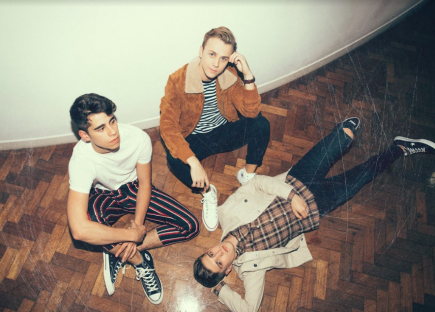 They'll support Little Mix on their UK tour next month and it's safe to say the process has been intense, but one they are grateful for.
"We weren't really sure what to expect when we started," Nathan told MM. "But it went really quick and it was just because we were writing songs we were really passionate about and we were lucky the right people heard it and got our vision.
"We haven't done that many shows anyway, so to be doing our own headline tour so quickly has been crazy. Going out and seeing people sing back our lyrics is the reason we're doing this."
The boys' tour took them across the UK and Ireland, the latter of which was special for Ryan as so many of his family were able to watch him perform live.
"It was unbelievable, it was amazing. The guys were a bit blown away, their ears were in bits afterwards and so were mine," explained Ryan.
He added: "A lot of my family and friends were there but they weren't really acting like family and friends, they were kinda acting like superfans going crazy."
This is not a brag, as Ryan was quick to admit: "They were all drunk, so that helps."
New Rules have had a lot of firsts over the last 12 months and Alec excitedly announced they already have their own merchandise. However, Ryan was quick to point out their first experience with it was less than official.
He revealed: "At our first gig in Manchester we were surprised when we showed up and there was a man outside selling lots of New Rules merch that we had never seen before.
"Turned out a lot of people wore the fake merch into the gig."
Ryan doesn't hold a grudge though, with his message to the fraudster simply being: "Fair play."
It's clear that the possibilities with streaming have helped the group make quick progress, with the band believing this has helped them be able to connect to their fans.
"For us it is just about sticking music out as soon as we feel really good about it." said Nathan.
Alec added: "Knowing that if the right people hear it it can reach people who we never would have thought would have heard it before".
In an era when TV talent shows are waning in popularity, I wondered if they ever thought about following Little Mix's strategy and going on a reality show.
The response? All three said "No!"
The band will be supporting Little Mix in Manchester on November 14, 15 and 16. They admit the magnitude of the tour hasn't really sunk in for them yet.
Nathan explained: "We definitely appreciate it but what it is is that everything has happened so quickly, so we are taking it as it comes. We appreciate everyone that has helped us along the way."
Of course, help comes in different forms and New Rules fans have developed a habit of giving them sweets. So, I decided to give them an opportunity to update their sweet preferences for their Manchester dates of the tour.
Nathan wants a Kinder Happy Hippo, Ryan wants "the classic" Maltesers and Alec wants… hummus.
As I said, they are quite the handful.
*You can buy News Rules tickets HERE