For a musical about a boy band, it is sisterhood that steals the show as the Take That musical comes to The Lowry this January.
It's Manchester, it's 1992, and a group of teenage girls are obsessing over their favourite boy band. 25 years and a million love songs later, they find themselves middle aged and wondering how they got here.
We first meet Rachel, Zoe, Heather and Claire when they are 16, swooning over the boy band and promising to be friends forever. We jump forward, they have lost touch, and their lives haven't turned out quite like they expected. But through the magic of boy band fandom, they realise they should never forget what they mean to each other.
All this with Five to Five, winners of the BBC reality TV show Let it Shine, performing the catchiest Take That numbers, equipped with the best boy band dance moves and oh, so many boy band outfits. What's not to like?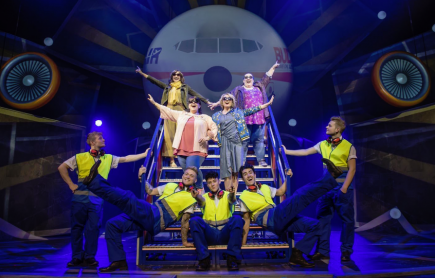 The Band successfully manages to celebrate the beauty of female friendship, even in your forties, whilst seamlessly maintaining the boy band fan factor. It has all the warmth of an evening with your closest friends, all the nostalgia of top of the pops, and all the glitz of a night on Canal Street.  
Tim Firth's world class writing leaves no joke without a laugh. Take That and their younger models leave no song without applause.
But the stars that shine the brightest are the women of the production. It's one thing to get the audience on their feet when they already know the tunes, it's another to get an audience to buy into a new story with unfamiliar characters. The heart and the energy of the female leads and their younger selves is a true pleasure to watch. They might not rule the world, but they sure can own the stage.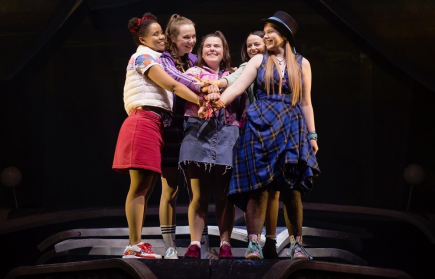 We needed some patience, but in amongst the flood of jukebox musicals lacking a decent plotline in the last few years, here we have a story the audience can connect with.
So, if you're having far from the greatest day and need a little something to relight your fire, then The Band is just what you need.
The enthusiasm of the cast is infectious and even the most apprehensive audience members will pray for one more number as the curtain comes down. 
Sadly The Band is not back for good but is running at the Lowry in Salford until January 26.
Have I said it all?
*You can buy tickets HERE to watch The Band.