"Breathe in. Smell the day. Smell the sky. Smell where the sky meets the paving stones. Smell day hitting concrete. That tiny moment. Breathe out." 
I do as I'm told, breathing in the smells of Manchester as I walk out of the Royal Exchange tunnel and into St Ann's Square, blinking in the light. I'm following 'Keep Going then Vanish', the first episode in the location-based audio series #WalkThisPlay that takes listeners around the city. 
Created by Manchester theatre company ThickSkin, the audio-walking experience layers the voices of a rat and a falcon with a hypnotic, atmospheric soundtrack and sound effects to create a tale of a young rat searching for its mother before it's too late. 
The project is a feat of combined technology and theatricality: each section of the story is triggered by your movements as they're tracked by an app's geo-location. This creates an exciting, novel way to engage with the play in real time, as you follow the actors' directions around the city, pausing to look, smell, and listen to the world around you.  
Audio-walking plays have become increasingly popular over the last year as theatres remained closed. "We traditionally make work for the stage, and the pandemic forced us to change and think about how we might present our work in different ways," Neil Bettles, 'Keep Going Then Vanish's director, told me over Zoom. "We were looking, as everybody was, at doing digital or online work. But quickly we started thinking about ways we could interact with actual theatres that might be closed." #WalkThisPlay is in partnership with the Royal Exchange, and 'Keep Going, then Vanish' begins and ends outside the theatre, reminding the listener of the theatre's physical presence.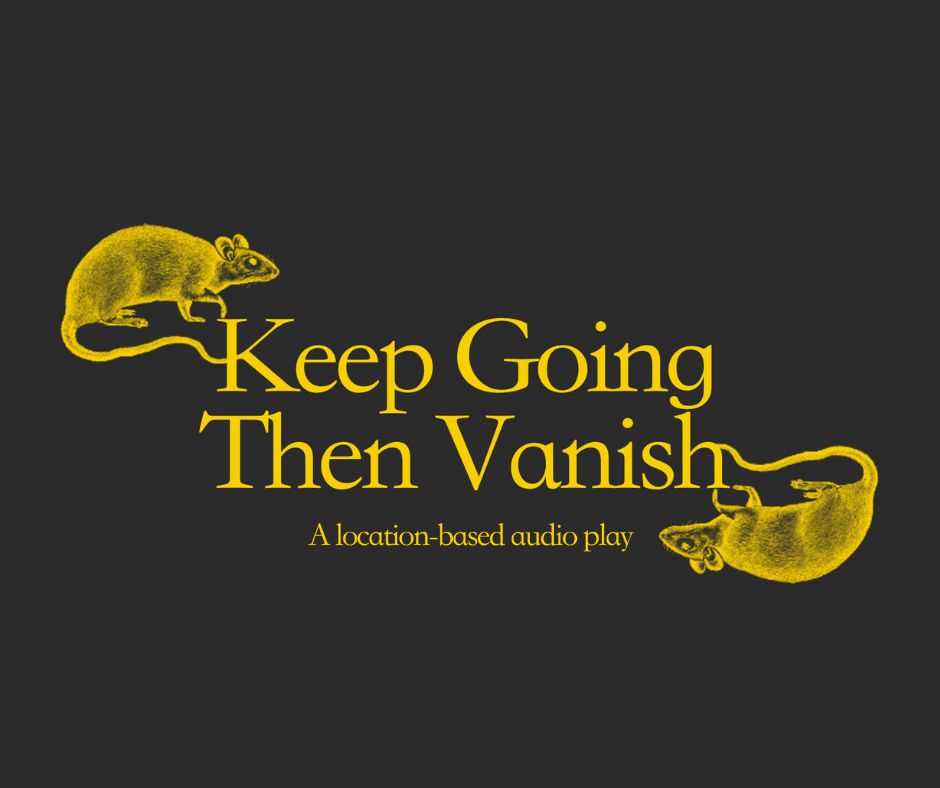 The audience is actively participating in the theatrical experience, which is heightened by the act of walking: you're helping drive the story on. Neil worked closely with the playwright, Jack Nicholls, ensuring the listener was constantly driven forward, trying to achieve something. 
Not all audio-walking plays need such a driving plot or structure. 'HERstory', a new project by Arch 468 for Brighton Festival, is about celebrating women's stories during the pandemic. Through 18 stories located throughout Brighton and its' outskirts, listeners scan a QR code in a particular location and are taken to an online audio story. Each story was written, directed, and voiced by three different women, as part of the project's determination to highlight women's experiences during the pandemic. 
"I feel like community is at the heart of all art," HERstory's executive producer Sofia Stephanou told me over the phone. The team wanted to give women from the community the opportunity to write, even if they'd never done so before, putting on local writing workshops which inspired some women to write their own stories for the project. "There is something quite magical that happens when you're in those rooms because you just get this real sense of rootedness to Brighton."  
This community focus is something ThickSkin are preparing for in the next episode of #WalkThisPlay, based in Ancoats. "It's about the area, it's about the history but also about community stories," Neil said. "This one feels much more about people and places, rather than an immersive story." 
Audio is a very specific type of theatre, both for the audience and the companies creating it. For Neil, whose background is in physical theatre, it was completely unlike anything he'd ever made before. #WalkThisPlay meant focusing on what story was being told as the listener moves around the city, and the emotions and sensations generated as a result. 
Sofia thinks audio has a unique intimacy, as it's right in your ears. "When you get your headphones on, you're literally focusing on one thing. There's a real quietness to it." Like Neil, she sees audio-theatre as directly involving the listener. "The audience member is invited to be a co-creator in a way, because they have to use their imaginations from what we're telling them. We're inviting them to engage with the art in an interactive way." 
Audio walking plays and theatrical experiences are an exciting, innovative way for audiences to experience theatre, to connect with their local communities and to immerse themselves in story.