"This could be Rotterdam or anywhere, Liverpool or Rome, 'cause Rotterdam is anywhere, anywhere alone."
It's New Year's Eve and Alice has decided that now is the perfect time to email her parents to tell them she's gay. It's taken her long enough, but just as she's about to hit send, her girlfriend Fiona has one very important thing to tell her: they have always identified as male and want to start transitioning as Adrian.
Set in the port city of Rotterdam, hence the title, Alice and Adrian have been trying to make a life for themselves as expats in South Holland but as the year starts off, everything is set to change and their relationship will face the ultimate test.
Giving a show-stopping performance as Fiona/Adrian is non-binary actor Lucy Jane Parkinson. Majestic from the second she appears on stage, Parkinson commands attention and retains it throughout.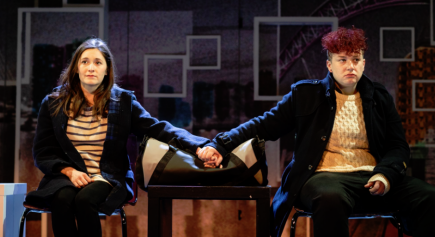 Rebecca Banatvala takes on the role of the often-uptight yet unintentionally humorous Alice, channelling her inner Saffy from Absolutely Fabulous. The dynamic duo hit it off right away, as a couple more than aware of their ying to yang ratio, but this new adjustment serves as a curveball to everything they thought they knew about one another.
The first act, taking place over the space of 24 hours, sees the couple readjust to life and question what the year ahead has in store for them. Alice, as expected, finds it all a bit difficult to comprehend, externally questioning if she can still be a lesbian if she's dating someone who identifies as a man.
It's at this point where we meet the two other characters to the four-piece of Rotterdam. Paul Heath takes on the role of Josh, Alice's colleague and a flicker to her past. His nuanced, balanced approach helps give meaning and understanding to a confused Alice.
Appearing like a guardian angel, we're also introduced to Lelani, excellently played by Stella Taylor. The foreign party animal seems to live in her own bubble and only sees what she wants to see, but it's a welcome counterpart to Alice's chaos.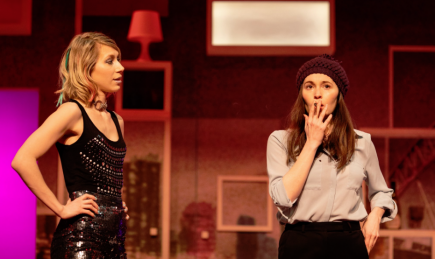 Fast-forward a few months, part two sees the characters as they've had the chance to come to terms with the events of New Year. Of course, things aren't rosy and they soon start to unravel.
The comedy of part one, while still evident in part two, is swapped for a more emotional take on identity, acceptance, and relationships. Solid performances from all actors involved means, at this stage, the audience is fully committed to hoping things can work out for each of the characters.
Without spoiling anything, the cast are prominent throughout every second of the show via a creative and original approach to moving the story along. But you'll have to see the show to find out how.
Rotterdam is as honest as it gets. Writer Jon Brittain described it as the play he always wanted to see when he was growing up, and that's its biggest selling point. It's full of heart and soul, and is a real portrayal of sexuality and gender.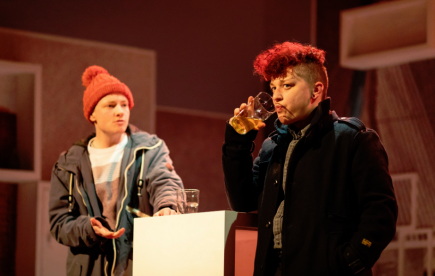 Instead of sugar coating over the topic, Rotterdam portrays a situation that queer audiences will instantly be able to relate to and recognise. Binders and all, it's representation at its finest, authentic self.
Last week, two of the actors were victims of a homophobic attack when they were seen holding hands on the way to the theatre during its run in Southampton. A statement by the production company behind the play at the time said that the kind of behaviour reinforced "the importance of this play's message".
Particularly during Pride month and as we mark 50 years since the Stonewall riots in New York, which kick-started the gay right's movement, it's essential that plays celebrating queer talent, artistry, and characters, like Rotterdam, are seen, heard, and watched.