An adaption of a much-loved work is always cause for concern.
Yet adapt a work that can stand toe-to-toe with its highly acclaimed original, and that's definitely cause for celebration.
And as The Full Monty sashayed onto the Manchester theatre scene last week, with northern charm, racy humour and scorching doses of 1970s funk, it proved worthy of such adulation.
The characters were as relatable and disarming as ever.
The jokes, new and old, were hilarious in their nature and deliverance.
And the scenes, especially those with a taste of Hot Chocolate and his ilk, were both loyal to the film and delightfully imaginative on stage.
The famed Hot Stuff scene was fully realised in all its gyrating glory, much to the enjoyment of those old enough to be nostalgic and to the younger thespian. 
Gary Lucy and his impressive cast strode the film's familiar ground, successfully framing the nature of Thatcherite Sheffield.
And although fewer Britain's can appreciate the common toils of the 1970s Sheffield steel man, the cast made the films original themes of unemployment, parental custody, and sexual orientation immediately relatable.
But after puns, pelvic thrusts, and heartfelt moments, it was the blow-by-blow retelling of the finale, complete with red thongs and bare bottoms, which the crowd were waiting for.
And to the backing of the ever-soulful Tom Jones, You Can Leave Your Hat On, it definitely did not disappoint.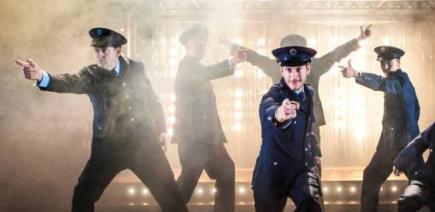 HOT STUFF: The Full Monty runs until September 20 at Manchester Opera House
Those with nefarious thoughts, which included the majority of the audience, were treated to a pinch of theatrical magic that kept the final reveal as revealing as possible.
And upon the curtain fall, the production was entirely deserving of its standing ovation.
Certainly as charming and hilarious as the movie, the stage production of The Full Monty once again shined a light on still prevalent issues while delightfully maintaining an accessible and joyful attitude.
And the audience was resolute in its agreement.
Andy Wild, a 43-year-old nurse from Moss Side said: "It touches on some really serious issues but in a nice way – I came out smiling!"
Kirsty Wilson, a 20-year-old student at The Arden School of Theatre said: "It's a really good balance of sad and serious, I loved it! It's so Northern, they're proper manly men."
The Full Monty is at the Manchester Opera House till Saturday September 20. Visit here for more details.
Images courtesy of The Full Monty, with thanks