A Hollywood blockbuster starring Colin Firth, Nicole Kidman and Jude Law is set to start filming in Manchester city centre this weekend.
The last finishing touches are currently being made to the film set on Princess Street for the film Genius, based on the book by Andrew Scott Berg.
The film has been adapted by playwright and screenwriter John Logan from Berg's biography, Max Perkins: Editor of Genius.
Shooting for the film will begin on Sunday in Manchester, before continuing in Liverpool and then London.
Perkins was an editor for American publishers Scribner and presided over iconic authors such as F. Scott Fitzgerald and Ernest Hemingway.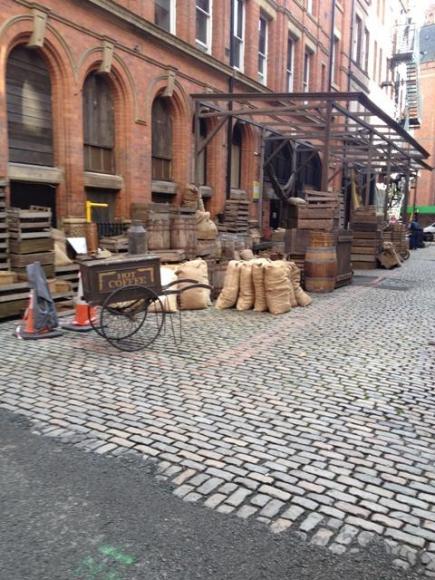 FROM THE STREETS TO THE SILVER SCREEN: The film is set for release in 2015
The film will tell the true story of the complex relationship between Perkins and the literary mastermind Thomas Wolfe, who wrote The Lost Boy and Look Homeward.
Law, who stars as Wolfe, was pictured filming for the feature on a beach in West Sussex earlier this week.
The King's Speech actor and Oscar winner Colin Firth will play Perkins and will be joined on screen by Nicole Kidman as Aline Bernstein and Laura Linney as Louise Perkins.
Writer of The Great Gatsby, F. Scott Fitzgerald will be played by Guy Pearce and Dominic West will take on the role of Ernest Hemingway.
Genius is being produced by Michael Grandage and James Bierman from the London-based Michael Grandage Company.
The film is due for release in 2015.
Inset image courtesy of Sharon Graphics, with thanks