Director Crystal Moselle's previous project, documentary The Wolfpack, focussed on a group of reclusive brothers, locked away from the outside world in their Manhattan apartment.
The same cannot be said for the group featured in her narrative debut feature, quite the opposite in fact. 
For the girls of Skate Kitchen, a crew of skateboarders from New York City, the street is their life and the skate park is their home.
The story focuses on Camille (Rachelle Vinberg), a young skater struggling to find acceptance within the male-dominated world of skateboarding.
Then there's her mother (Elizabeth Rodriguez), who after Camille's horrific accident in the film's early stages demands the youngster to never skate again.
This string of events leads Camille to discover Skate Kitchen, and although never stated in the film, they are a genuine skate crew that Moselle discovered entirely by coincidence on the New York subway.
All making their acting debuts, they reward their director's decision to be cast as variations of themselves.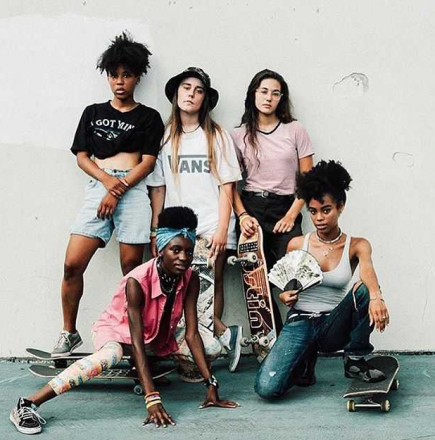 In a stand out performance by newcomer Vinberg, Camille joins Skate Kitchen and the subsequent story follows her experiences and relationships within the group. The narrative never really dares to expand from this.
The film brilliantly depicts the group's fierce individuals, and Camille's search for an identity within all of them.
The film's turning point is Camille's affection for an ex-boyfriend, a bit part role played by Jaden Smith, which does feel slightly formulaic and forced.
In fairness to Smith, he plays his part well and proves to be more than just a marketing ploy.
The film works best when focusing on the natural chemistry of its characters and their journeys throughout New York City's sub culture.
Amongst its weave of multiple sub plots, the film also touches on important issues facing young women such as sexuality, stereotyping and parental abuse.
That being said, this is also a genuinely funny film at times. The crew are foul mouthed, and jokes about sex and menstruation come thick and fast.
The script is brilliant – at times in almost feels improvised – but Moselle insists it is not.
The dialogue is raw and honest and the laughs feel authentic. The cinematography paints a stunning vision of New York and the skateboarding shots are very well done. Skate Kitchen also boasts a fantastic soundtrack, with Clairo and Khalid amongst others.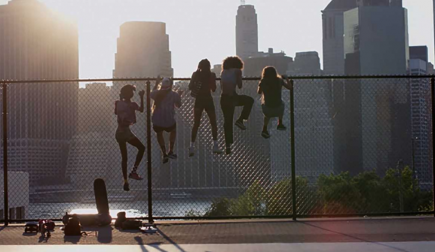 Skate Kitchen may not reinvent the wheel for youthful coming of age drama, but the messages it sends about conformity and inclusion ultimately shine brightly.
There's a lovely moment when the crew skate past a young girl (who as it turns out is Moselle's god daughter) holding her mother's hand.
She stops and stares in pure amazement. And it's in this, the film's scope to encourage and inspire, which may be its most impressive and important quality.
Skate Kitchen is released on September 28.