Quirky electronic pop quartet Clean Bandit are a definite success story of 2014.
Having racked up fans both here and across the pond with their clever, upbeat and dancey sound, the band have embarked on a 14 date headline tour and will play Manchester Academy tonight.   
The band rocketed to success in January with their infectiously chipper hit Rather Be. The song is the UK's most streamed track of the year so far racking up an astounding 32 million times plays.
Milan Neil Amin Smith , the band's violinist said: "Rather Be is when it all took off really. Since then we're busy seven days of the week, and it's really exciting.  We're always getting told crazy statistics about the song and we still can't quite believe it.
"To be honest we had been performing that song for quite a while with quite a few different singers, and then we met Jess Glynne something just clicked and she gave it a different dimension.
Grace Chatto, who plays the Cello, said:  "It was crazy when the song did so well, but although it seems like we came out of nowhere, on the inside it wasn't so sudden.
"We've been working for quite a few years so it was amazing that the song resonated with so many people."
Milan and Grace grew up together, but only became friends at Cambridge University when they played in the same string quartet.
Grace's boyfriend and band member Jack Patterson started recording their music and remixing it with electronic sounds, Luke, Jack's brother started providing the drums and Clean Bandit was born.
What separates the group from their contemporaries is their fresh and vibrant use of strings as the lead instrument, and the interesting involvement of other classical textures to create a rich and unique sound.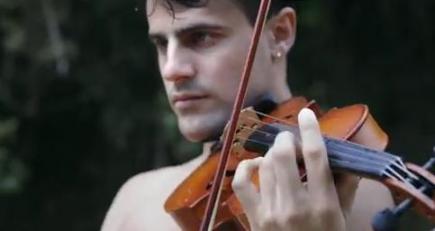 PLUCKY: Clean Bandit love showing off their favourite instruments  
Clean Bandit take inspiration from the greats such as Dvorak, Bach and Mozart and boldly bring these influences together alongside housey beats to create good time tunes that leave you grinning from ear.
Milan said: "Me and grace are classically trained, and I've been playing the violin since I was two years old. We used to attend the royal academy of Music at weekends so classical music has always been a huge part of our lives.
"Me and Grace also have always loved "We've also always been into dance music, and Grace and I ran a night together at uni. It was called national rail disco.
Grace added: "Neil used to DJ every week and we tried to book artist like Joy Orbison, and MJ Cole, so we've always had a passion for both genres."
The band produce their songs and then invite a diverse group of singers to feature on each track means their album New Eyes is a smorgasbord of intriguing tunes.
The vocalists range from the soulful Jess Glynne to the effervescent Sharna Bass, to the incomparable reggae star Stylo G.
Grace revealed: "It's good for us though as definitely take inspiration from the work of the artists. Usually we write the instrumental, before the vocals, but with Stylo G we had the instrumental track done, but when we started working with him it moved towards a dancehall beat which is something we wouldn't have otherwise done.
"At the moment we are touring with two incredible singers, Florence Rawlings and Elizabeth Troy, but it is quite fluid because sometime we don't know how is going to turn up as there are 12 featured vocalist on the album and they are all doing their own solo things.
"I think that's quite exciting though, the unknown, for the audience as well as us."