It's hard to believe that Arthur Miller's masterpiece Death of a Salesman is close to 70 years old.
A tragedy played out largely in the head of its main, self-deluded, protagonist the production at Manchester's Royal Exchange is an emotional tour de force.
And in the world we're now living, the unfulfilled hopes and dreams of Willy Loman are as relevant today as they were when Miller penned this Pulitzer prize winner.
Director Sarah Frankcom allows her actors to breathe and, given the space the sparse staging at the in-the-round Exchange provides, they're able to push their character to a limit that is a joy to behold.
It must be a joy to work with Frankcom as an actor and the level at which this talented ensemble perform must be exhausting and exhilarating in equal measures.
For those who have never experienced Death of a Salesman, Millar's play tells the story of Willy Loman, a salesman of many years who's reduced to working only for commission.
Willy longs for the days when he would be welcomed with open arms across the whole of New England and his frustrations that his industry has changed, his star has dimmed (if it ever shone that brightly in the first place) and his eldest son Biff has yet to find himself spill over throughout the powerful production.
It deals with the complexities of reality and illusion, of a man who has worked so hard to provide for his family that, as the time comes to start enjoying the albeit meagre fruits of his labour, he has nothing left to give, nothing left to fight except a lifetime of missed deals and opportunities that never came his way.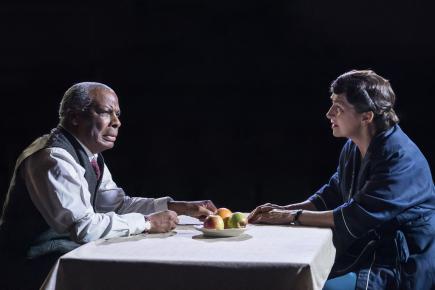 MOURNFUL: Don Warrington as Willy Loman and Maureen Beattie as wife Linda
Don Warrington in the titular role is masterful and mournful in equal measures, his descent into a kind of madness – reliving his glorious past, seeking advice and solace from his brother Ben – providing the perfect canvas for an actor of his talents to paint his own masterpiece.
Blessed with a voice that can move seamlessly from soft and warm to hard and aggressive at the flick of a head, Warrington seems the perfect choice for the role of Willy.
In wife Linda, Maureen Beattie provides the light and shade – at pains to satisfy her difficult husband but also with the strength to pull through for him in the face of her sons' increasingly selfish disregard for their father.
She cannot understand what is happening to her family and when it ends with the devastating final scene at the graveside, your heart can't help but break for her.
The dynamics between Willy and his sons is fascinating. Ashley Zhangazha as eldest son Biff portrays the kind of anger and pity towards his father that makes the predicament faced by all so raw while Buom Tihngang as Happy is eager to please at every turn but ultimately falls into the shad.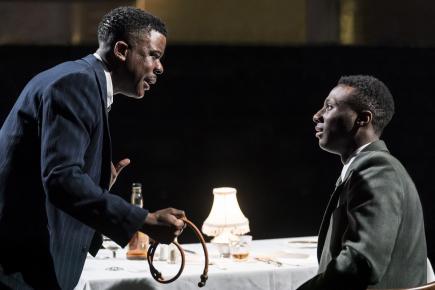 BROTHERS: Ashley Zhangazha as Biff and Buom Tihngang as Happy
Biff is working on a farm out West while Hap falls into the same trap as his father – his version of how is life is going is wildly different to the reality.
If anything, only Biff is true to who he is and that is at the heart of Willy's disappointment in him.
The real triumph though is Trevor A Toussaint as Ben, who drifts in and out of scenes providing counsel to his brother with a presence so great and overbearing you feel that Willy never stood a chance.
As with any theatre in the round, the staging is a delicate balance.
But Leslie Travers is on point with his design, a table and chairs (which represent the family home, Willy's boss' office and a hip joint serving champagne and lobster) and a tree canopy the only visuals needed to open up Willy's world.
The real beauty of the round though is it allows the characters to be there without being there.
Casting an eye to the side of the stage as the various figures await their time in the spotlight gives a real 3D glimpse at what is going on – whether he realises it or not, these characters are always in Willy's life, hanging like apparitions ready to taunt and drive him to further despair.
The Royal Exchange has a fabulous reputation within the theatre world and it's not hard to see why the awards often follow.
It's never been afraid to tackle the 'big-hitters' – the last three years have seen plays by Messrs Wilder, Williams and Beckett given the RX treatment – and under the stewardship of Frankcom, any play is in safe hands.
She's quite possibly the finest in the business and Manchester is so lucky to have her.
Images courtesy of Johan Persson via Royal Exchange Theatre, with thanks.