Kinofilm Festival is making a triumphant return to Manchester.
The movie extravaganza has been running for more than 20 years and celebrates the talents of emerging and established filmmakers.
It has a reputation for showcasing the best short films and debut features from around the world and seeks to highlight the latest, most diverse, and challenging new movies.
The upcoming festival will mark the 22nd year running of Kinofilm and takes place in multiple venues around Manchester from November 18-26
Kinofilm launches with a red carpet gala screening at Odeon, Great Northern Cinema today.
Those in attendance will have the chance to mingle with VIPs such as Denise Welch, Jack Deam and Ewen MacIntosh, who are among the stars appearing in the evening's line-up of shorts.
There will also be a drinks reception, live music and an after-party.
Famous faces and first time film-makers will be around the city where the festival shares over 250 films in 40+ programmes to choose from.
There's horror and romance, comedy and crime, fairy tale and fantasy and the Women in Film strand will be flying the feminism flag high.
A worldly choice is available with screenings from Europe, Asia, America, Australia, and the Middle East.
Of course that's not to forget British film and, in particular, the region's own fiercely independent film-making community.
Festival manager Nicole Pott, said: "Kinofilm Festival is going to be the best festival for a long while.
"We have a great number of events showcasing many fantastic films by talented filmmakers across the region and the world.
"It's an event not to be missed."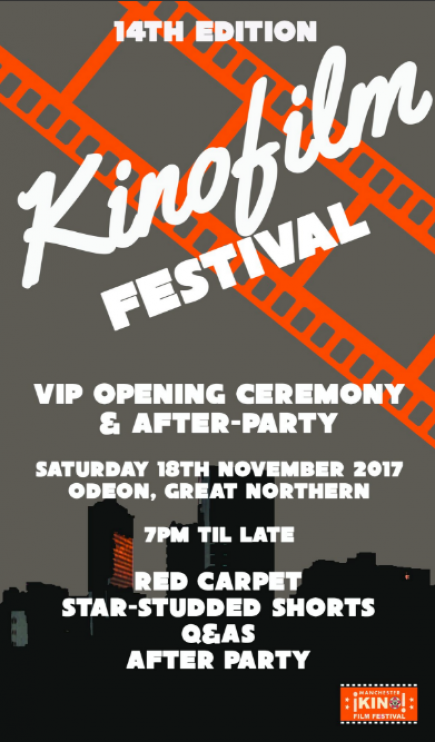 EXTRAVAGANZA: There's a whole host of glitzy events planned 
The film programme will begin on Monday November 20 with a number of directors' spotlights at Gullivers in the Northern Quarter.
The next six days will offer a wide variety of short film screenings, industry panels, cinematography workshops and talks hosted by the BFI and Creative England, on topics such as women in film and sci-fi fantasy.
Social and networking events will be held throughout the week, including an event at Junkyard Golf on Tuesday, November 21.
Every evening will close with networking and drinks at The Gas Works Brew Bar, followed by late night beverages at Blackdog Ballroom NWS. 
An awards ceremony at 6pm on Sunday, November 26 will be the beginning of the festival's close.
It will be followed by the screening of the winning shorts at 8:00pm.
Award categories which will be presented include Best British, Best International, Best Documentary and Best Student.