When I was ten I was faced with a constant weekly dilemma – Smash Hits magazine or Top of The Pops?
It usually all depended on whichever one had a floppy-haired boy band on the cover (or which one had free glittery lip-gloss) but it wasn't always easy.
Blazin Squad or Westlife? 5ive or Blue? The struggle was real and the group that won my heart that week often ended up plastered all over my bedroom walls… and sometimes the ceiling above my bed.
A choice I could always count on to cause the most distress was between McFly and Busted.
Fast forward more than a decade though and the boys are gracing covers together after joining forces to create the ultimate Noughties supergroup, McBusted.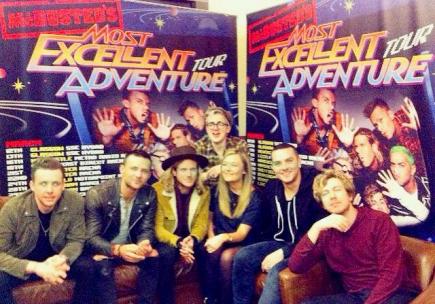 MM-BUSTED? Sian joined the six-piece supergroup ahead of their upcoming shows at Manchester Arena
"You mean you had to wake up every morning looking at our mugs?" said 31-year-old Matt Willis.
"Shall we re-enact that?" quipped Danny Jones, 29, the only Northerner in the group who hails from Bolton.
"Lie on the floor," shouted Dougie Poynter, 27, while giggling and dressed in a mustard jacket and fedora hat.
"Yeah come on, lie down and pretend to be asleep," said 29-year-old Tom Fletcher. "Now just stay there a minute and take it in!"
Matt, James, Danny, Tom, Harry and Dougie have just embarked on their sixteen-date Most Excellent Adventure Tour which will see them play two nights at Manchester Arena on March 21 and 22.
After announcing the birth of the pop union in 2014, the boys sold out debut shows in under an hour and were forced to add extra dates due to the incredibly high demand.
The extended tour meant the lads played to a staggering 350,000 people across 35 sold out arenas, culminating in a show stopping headline performance at Hyde Park to 60,000 people in the summer.
"We absolutely love being on stage. Touring is by far our favourite thing to do" said Harry Judd, 29.
Danny added: "We're so excited to be on the road and we're feeling more pumped than before."
The Bolton-born musician is particularly excited to play Manchester as it's the closest he can get to play a 'homecoming gig.'
Thanks for having us in Oz with you @onedirection we had an amazing time can't wait to hit Europe next!! pic.twitter.com/c1WvmJRY0m

— McBusted (@mcbusted) February 24, 2015
"Manchester's always a very special show for me. We spend a lot of time here and when we go on tour, this is where we like to base ourselves," he said.
"Manchester is actually my favourite city I think. I like the people here," said Tom.
"Do you know what happens here… People open doors for you," added Danny.
"What like, metaphorically?" asked Harry, laughing.
Tom responded: "And they say thank you, they've got manners. They should rename it Manner-chester."
The band's journey as a six piece began in Manchester in 2013 when 31-year-old James Bourne made a last-minute dash to watch his McFly friends play a show in the city.
The 5 Colours In Her Hair singers decided it would be a fun idea for the Busted guitarist to go out on stage before the support band and sing a few old-school tracks to 'warm up the crowd'.
"They just went absolutely mental for it. It was really strange, I came off stage and the atmosphere was incredible," recalled James.
"Then we all sat down with our manager, who used to look after the two bands, and came up with the crazy idea to join the two together and now here we are."
Noticeably missing from the lineup is Busted frontman Charlie Simpson.
The bushy browed 29-year-old was paid a six-figure sum by Mat and James after he sold his third of the bands copyrighted name and subsequently refused to be part of the supergroup.
Busted sold 2.1million records in the UK alone and helped launch McFly's career when they welcomed the boys to join them on tour in 2004.
Now armed with a debut album including new singles Air Guitar and Get over It, the boys have put together a show-stopping set list for their second tour as a six piece.
But don't fret old-school fans, because the boys have promised to play all the hits from their back catalogue including Year 3000, All about You and What I Go to School For.
Despite their string of huge guitar-pop rock hits throughout the Noughties, the boys didn't receive much air play and it was thanks to the likes of SM: TV Live and CDUK that their fan bases grew to be so huge.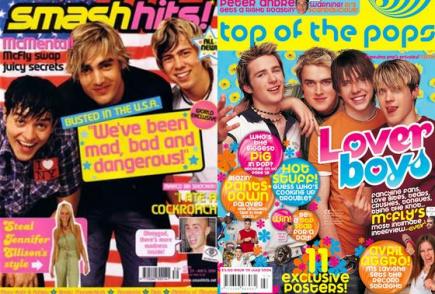 COVER BOYS: Whether McFly or Busted were on the front page of a magazine was once a deal breaker for thousands of teen girls
Having grown up religiously watching Saturday morning television it was a strange feeling sitting down with the boys whose faces are all so familiar.  
They're charming, silly and fun and although it was a task to keep them on topic, they're courteous and lit up when reminiscing on their time on the road together – none more so than when it came to laughing at each other's expense.
"Who was it who fell into my drum kit that time and got that massive lump on their head?" said Harry, laughing.
"No that was Matt when he hit himself in the face with his bass, remember?" said Danny.
Tom added: "That's the thing with touring, you never know what's going to happen."
And it's not just the stage show that can be unpredictable but the fans in the crowd too.
"We've seen loads of weird things in the crowed over the years," said Matt. "I looked out one night and seen the Scream mask! I was like what the…"
"And boobs!" shouted Danny, in his thick Bolton accent, sending the boys into a fit of giggles like a group of giddy schoolboys.
He added: "We've seen boobs in the crowd which is always a pleasure whether they're big ones, small ones or something in between, you know…
"I think it's quite nice when you're singing Sleeping With The Light On and you look out and see a pair of boobs."
Despite the lads all now being in their late twenties and early thirties it was easy to forget they're no longer teenagers as they sat giggling on the sofa.
@mcbusted at the @fdarena was pretty special last night! pic.twitter.com/QWwFYRzMmr

— Robin Walker (@robinwalker19) March 19, 2015
"I was quite gross when I was a teenager," said Matt, covering his mouth with his hands.
"I had so many horny pictures of girls, loads of really hot FHM girls and I remember I had this one of Liz Hurly and it was so hot."
"I had Kelly Brooke and Rebecca Romijn on mine… and Rachael Stevens!" said Danny.
"My mum and dad made me take my down," added Dougie, sending the lads into another five-minute laughing fit.
"I had all the cast of Friends," said Tom, as the boys were now laughing hysterically.
"You had the cast of Friends on your bedroom wall?" asked Harry, in complete dismay.
"Of course he did. Tom was a Dawson's Creek pencil case kind of kid," quipped Dougie.
Although they were happy to reel off their teenage crushes, the majority of the boys are now happily married and can count a Big Brother presenter, a former Miss England and an international pop singer among their 'WAG's' – or, as I suggest they be called, the 'McBitchez'.
"I like that!" shouted Danny.
"That's way cooler than WAG's… I'm not sure how well it will go down though," added Tom.
Tom married his childhood sweetheart, Giovanna Falcone, in a star-studded ceremony back in 2012 with his McFly band mates serving as groomsmen.
The platinum blonde musician uploaded a video of his speech to YouTube, which included several of his bands most successful songs, which has since gained 15 million views.
"There's only two left now," said Harry, pointing at Dougie and James. "And Tom set the bar very high."
"That's why we're waiting a few years for that to die down," added Dougie, who remains coy about his romance with Love Me like You Do singer, Ellie Goulding.
But will the famous wives and girlfriends be welcomed to join the boys the tour?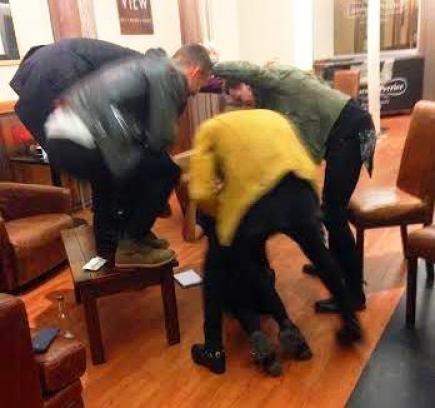 WAKEY WAKEY: The boys re-enact Sian's youth spent staring up at their posters from her bed
"We prioritise lads, always," said Danny.  
"Yeah, definitely lads. We might let them come to a few shows," said Harry.
"I think we're all just so happy to be doing what we're doing and to be on the road together", added Matt.
"The tour is going to be epic and we might be bringing a world record to Manchester so make sure you're there."
McBusted will bring their Most Excellent Adventure Tour to the Manchester Arena on Saturday March 21 and Sunday 22.  
Main image courtesy of Britt, with thanks.