An ITV drama turned touring musical doesn't exactly have 'classic' written all over it.  
But Fat Friends proved that it deserved its place on the stage when it opened at the Opera House in Manchester.
The production is the handy work of Kay Mellor, who was the visionary behind the original show when it ran for four seasons from 2000 to 2005.
She's crafted the perfect laugh-a-minute storyline here, while ensuring the music is left in the safe and capable hands of Nick Lloyd Webber.
The plot tells the story of bride-to-be Kelly (Jodie Prenger) who sets out to drop two dress sizes before marrying her loveably dumb fiancé Kevin (Andrew 'Freddie' Flintoff).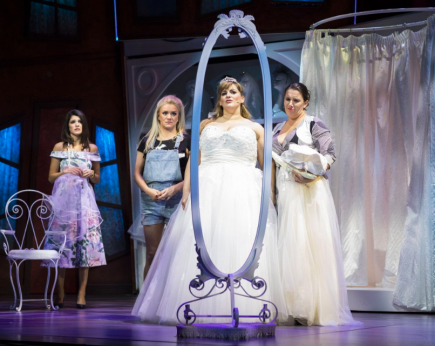 FEEL-GOOD: There's never a scene that isn't full of jokes
Is any musical that casts Flintoff in a leading role playing with fire? Well, yes. But it's clear that it's a gamble that's paid off from his very first scene.
The former cricketer is met with an audible roar (as well as some phwoahs!) from the audience as he steps on stage, quickly setting the playing field for many more giggles throughout the evening.
The name of the game is to keep things light-hearted – with some of the more serious issues being confronted with self-deprecating humour.
This is a world where being overweight, cash-strapped and unlucky in love are realities that can just be laughed at. This, of course, is half the fun of watching a production like Fat Friends.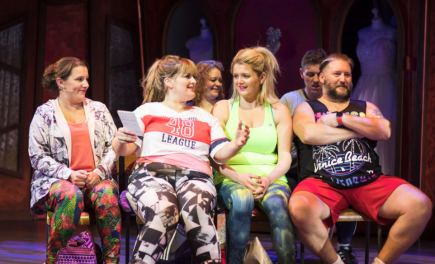 PLOT: Kay Mellor returned to pen the storyline
Prenger and Flintoff are joined under the bright lights by a number of familiar faces. This includes X Factor winner Sam Bailey, who plays Kelly's mum, and Coronation Street legend Kevin Kennedy (yes, Curly Watts), who plays Kelly's chippy-running dad Fergus.
It felt like these two roles were kept short and sweet, with the odd subplot thrown in for good measure. It was a wise decision to showcase these actors' talents rather than their storylines.  
Meanwhile, Emmerdale star Natalie Anderson and former Atomic Kitten singer Natasha Hamilton are amongst the surprise standouts, playing Lauren and Julia Fleshman respectively.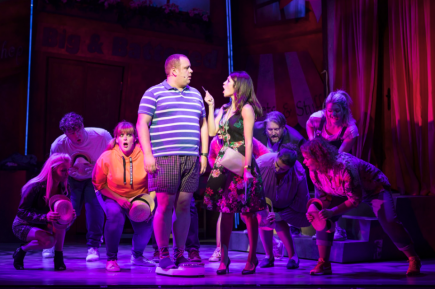 ACTION: There's plenty of singing and comedy
In fact, the energy that Anderson brings to the role is one of the reasons why this show will likely be on the receiving end of two thumbs up during its initial run.
All in all, there's plenty to enjoy about this production. In particular, the musical numbers Be My Man, Chocolate and Love Who You Are are sure to get people's feet tapping.
No, there was never any doubt about how it was going to end – but that's certainly not a bad thing. After all, the most practicable endings are sometimes the best.
It's clear now that Fat Friends the Musical is the type of feel-good story that belongs on stage.
*Fat Friends the Musical is showing at Opera House, Manchester until Saturday, 24 March. You can buy tickets HERE.