This is Shakespeare, but not as you know it.
We're told it contains 'gun shots, smoke/haze, smoking on stage and features themes of domestic abuse.' Audiences might be familiar with the domestic violence of Othello but it's clear everything else is going to be different.
HOME's othellomacbeth is the world premiere of an ambitious new staging of two of Shakespeare's best known plays back-to-back.
Before you get worried that this is an all-day affair, both plays have been heavily edited. A full staging would come in at around six hours, so audiences will be relieved to know this venture is a little under two and a half.
With such huge ground to cover, it's incredible how few performers take part. Just nine actors set foot on stage, with most playing two title roles alongside a handful of smaller parts when needed.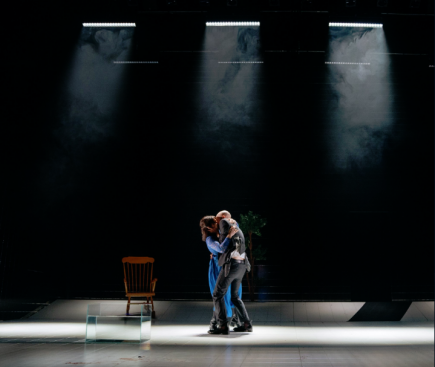 UNTOUCHED: Shakespeare purists will appreciate that the original lines are intact despite the modernisation
With all the drama still ahead, the play begins almost unannounced. The usual red curtain replaced by a metallic wall that forces all the action of Othello to take place in a narrow strip at the front.
What's immediately clear is that this is not the 16th century of Shakespeare. We see modern fashion, guns, cigarettes, alcohol and, in one memorable moment, a takeaway pizza.
The cast itself also reminds us this is 2018, not 1618. Accents abound from all corners of Great Britain and beyond, with a line-up that reflects our modern times.
It was almost sixty years before a woman was allowed to join one of the Bard's plays. That role was Desdemona, played with such devastating effect here by Kirsten Foster.
It's apt then that it's Desdemona, alongside Emilia and Bianca, who acts as both plays' emotional centre and takes centre stage for the finale.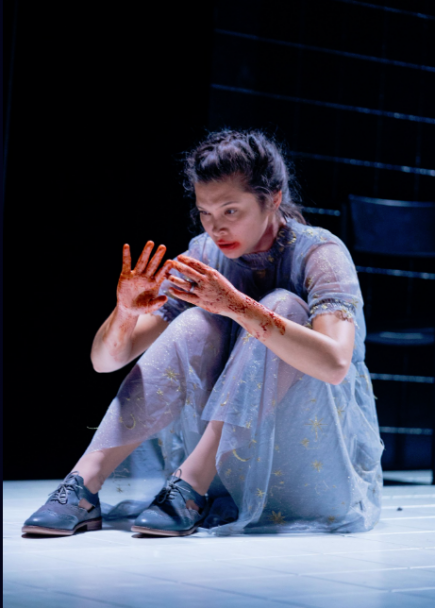 SHORTENED: The two stories play out over the course of two and a half hours
Many theatre productions worldwide have staged these plays with an all-female cast. Edited to highlight the perspective of Shakespeare's oft-ignored female characters, Salford-based director Jude Christian does so in a less obvious way.
Fear not, Shakespeare purists, the great man's lines have not been touched but Christian does so much with simple stage direction to make this production her own.
By keeping all performers in a single outfit each, we see how quickly the violence towards the female characters adds up and how guilt affects some others. MacBeth and his Lady may wash their hands of blood but they do so in a see-through sink.
The intimate set of Othello opens up with a dramatic pivot at the interval to reveal the expansive backdrop to Macbeth. The stage may be bigger, but the dream-like design almost narrows the focus, putting us inside the mind of the Sandy Grierson's tortured titular figure.
Plenty of productions have attempted to update the iconic works of Shakespeare. Dragging him kicking and screaming into the 21st century, this incredible two-for-one play may just have done so.
Something different this way comes.
*othellomacbeth is being shown in HOME until Saturday, September 29. You can buy tickets HERE.