There is only one fancy chair in the office and it is the opposite of anything you could imagine the character Angelos Epithemiou sitting on.
Angelos, always dressed in an anorak, oversized specs, with his hair gelled straight down would not look out of place in the Northern Quarter today, but was deeply unfashionable when first on our screens a decade ago.
However, Dan Renton Skinner, the man who created and portrays the bizarre and completely unique character, is very different from his comic creation and he looks right at home lounging opposite me in the regal looking armchair.
Angelos would have been first recognisable to many as Johnny Vegas' replacement on Shooting Stars often disrupting the insane show's hosts, Bob Mortimer and Vic Reeves.
Renton Skinner is bringing Angelos to XS Malarkey in Manchester on November 25 as part of his first tour in eight years, Can I Just Show You What I've Got?
Angelos Epithemiou is hard to describe and Renton Skinner makes it clear that just like his character, the show is not your standard fare.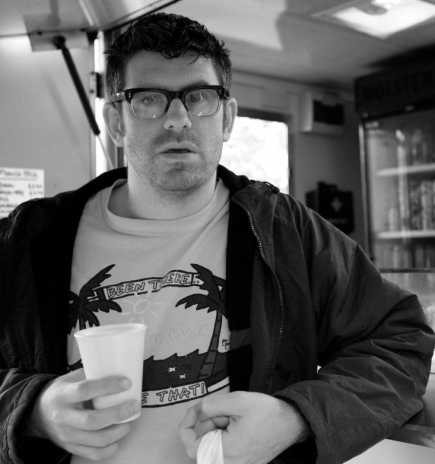 "It's a sort of fairly bog standard Angelos show, which is basically a load of stuff, there's no real thread.
"I think basically all I'm trying to do is just have it so it's a place a load of people can go and just take their mind off everything that's going on at the moment."
When he says 'a load of stuff' he really isn't exaggerating. The hour long show features eclectic bits such as Angelos stuck in a tumble dryer and a Top Gear audition tape.
Dancing and singing are also mixed in to a performance devoid of political discussion, something that was a conscious choice by the comedian.
"We're in a bit of a state aren't we and we're a bit polarized and we're arguing an awful lot and I thought, I should make a show that has got nothing to do with any of that stuff.
"It's just a load of nonsense threaded together. It's very funny."
GETTING AWAY WITH MURDER
Renton Skinner is very affable in person, but he doesn't believe going up on stage as himself would have the same impact as inhabiting a character.
"Honestly, no one's interested in what I've got to say at all. I'm not interested in it, but it's much easier just to put on a mask and a coat and a bag and turn the sensor off completely.
"And then just say the first things that come to your mind. I mean, who wouldn't want to do that? You can get away with murder and it's really great just inhabiting somebody else, It's a real sort of form of escapism for me."
He thinks Angelos creates a different atmosphere, not just for himself but for the audience who don't know what to make of him.
"It's good for the audience. Like to be around somebody that is a little bit old but is prepared to get on stage and show everybody that oddness. He is undoubtedly the lowest status in the room, but with the most confidence.
"It's like being a superhero really. You put the Cape on and you go out there and become this other person that's sort of indestructible. Things just bounce off him."
When Renton Skinner first started performing as Angelos on Shooting Stars, Mortimer liked to pretend he was a real person and play up his day job as a burger van owner 'somewhere in the North East'.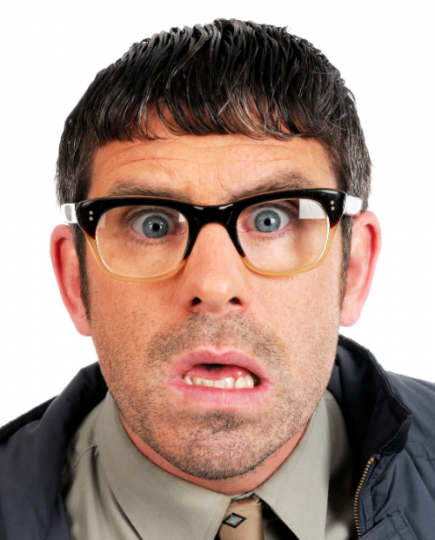 It turns out that the story of how Renton Skinner got Angelos onto Shooting Stars is even more fantastical than could be made up and all started when he sent Mortimer a video in character.
"I'd never met him before and I just sent this video of Angelos saying, 'For God's sake Bob, it's about time you give me a job, isn't it? This is getting ridiculous.'
"And I got a napkin and I wrote a scrawly note on the napkin in pencil and I put that in the envelope with this tape and I sent it off to their production company.
"They gave me a ring, the next day or so. And Lisa Clark, that Bob's producer said, Bob would really like to meet you. I said, 'Okay. Lovely.' So I went in and met him and he said 'This is really funny. What is it you want to do?'
"I said, 'I'd like to have my own show, but nobody's going to give me that. So if you gave me five minutes on one of your shows somewhere that would really help me out, you know?'
"And he said, well, 'Shooting stars is coming back'. And I said, 'Perfect, I'll be on that.'"
Mortimer watched one of his stand-up shows and brought him in to work with the team on one of their rehearsal days.
'YOU'RE FIRED!'
Renton Skinner was nervous, suddenly in a room with the two hosts plus Jack Dee and Ulrika Jonsson, but knew he couldn't waste his chance.
"They all started talking and I thought, if I don't say something now, I'm just going to freeze, so I just bang my hand down on the table.
"And I said, 'Can we start this now because I've got to go. I haven't got time for this' they were all looking around, that caught their attention and then we were off."
Despite becoming an integral part of the rebooted version of the show and a bonafide star in his own right, Renton Skinner could never feel comfortable.
"I thought after every show, someone from the BBC is going to come along and just tap me on the shoulder and go, 'No, no, I'm afraid you're fired'."
He wasn't fired and by 2012 had his own show as the character, named The Angelos Epithemiou Show, alongside appearances on Come Dine With Me and his own UK tour.
But a couple of years after Shooting Stars ended the comedian took a break from playing Angelos and acted in feature films such as, High Rise and Swallows and Amazons, as well as racking up multiple television appearances.
This was working well for him, but after a guest appearance as Angelos on a podcast hosted by Alex Lowe in character as 'Barry from Watford', Renton Skinner started to get back into the role.
"We started doing live shows together. I thought this is good. And then someone asked me if I wanted to do a show on my own and I said, 'Okay'."
When asked about the future of Angelos, Renton Skinner says he has been commissioned to write an Angelos film, but isn't sure how long he will keep the character going.
"It's good fun. So whilst it's fun, I'll do it. But it has to remain fun."
Tickets for Can I Just Show You What I've Got? Are available here: https://www.wegottickets.com/event/485483