This January and February Moscow City Ballet are touring the UK with four ballets from their impressive repertoire. I was lucky enough to catch their performance of Romeo & Juliet at the Palace Theatre.
The recent success of contemporary dance companies in the UK, like Northern Ballet and Matthew Bourne, calls to question if there is still room for traditional ballet in our theatres.
Moscow City Ballet show that when done well, classical ballet can just about hold its own on the modern stage.
Romeo & Juliet is not one of the traditional ballet stories, like Swan Lake or The Nutcracker. Although the fate of the star-crossed lovers is the most famous love story of all time, the beauty of Shakespeare is usually in the words.  In a ballet, nobody speaks.
Turns out, once you remove the 'wherefore art thous' you aren't left with much to play with. They fall in love, they get married, people die, there is a terrible misunderstanding and well, you know the ending.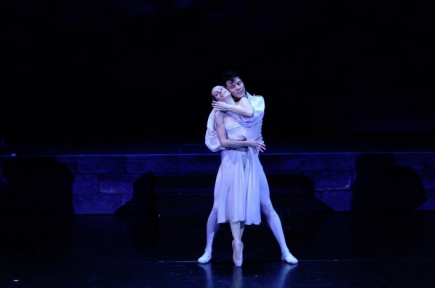 In Moscow City Ballet's version of Romeo & Juliet this translates to several scenes with the ballet company (Montagues and Capulets) fighting or at a party. Despite the evident skill of the dancers themselves, the repetitive choreography means these sections lack emotion and any 'jokes' aren't especially funny.
However, traditionally a ballet is all about the principals and especially the principal female dancer. Kseniya Stankevich as Juliet is breathtaking. She plays the role beautifully. Not only is her dancing exquisite but it is wonderful to see a dancer really act the part. Overall the production trivialises the tragedy of the story a little, but Stankevich dances Juliet's pain hauntingly well.
The Hungarian Simfonieta Orchestra performed Sergei Prokofiev's Romeo & Juliet from the orchestra pit. They play the music well, although an increase in volume wouldn't hurt.
What many would recognise as the theme tune to The Apprentice captures the drama of the family feud, but if blasted out a little louder would have added grandeur.
A highlight of classical ballet is always the pas-de-deux. This is when the male and female leads dance together. There are lots of lifts and impressive turns and there is nothing else like it. And no, Strictly does not come close.
Dzimitry Lazovik as Romeo does a fantastic job at supporting his partner as she floats across the stage with superhuman flexibility. The dancers portray the love and loss of the hopeless teenagers with passion and precision. Their duets are a real highlight.