Greed is definitely not about Sir Philip Green.
Steve Coogan's power-hungry, wealth-hoarding, egomaniacal, self-centred and image-obsessed character Sir Richard McCreadie is in no way, shape, or form similar to the Topshop tycoon.
Definitely not. Right, now we've got that out of the way…
Michael Winterbottom's biting satire follows fictional fashion magnate Sir Richard McCreadie (Steve Coogan) as he attempts to win back some public favour with a lavish Ancient Rome themed 60th birthday party following a disastrous parliamentary hearing where he's labelled "the unacceptable face of capitalism."
Planning the party proves no easy feat, the lion he's rented for his plywood colosseum isn't vicious enough, he can't get any celebrity guests to commit to attending and refugees have occupied the public beach the party looks over.
There's a sharp juxtaposition in the story, between the luxurious living of McCreadie and his incredibly white teeth, and the poor situation that the refugees on the beach and his many factory workers find themselves in.
This tonal shift is jarring at first, but works in the films favour as it progresses. The already trivial problems of McCreadie, such as whether to book Robbie Williams or Elton John for his party, go from being absurdly funny to frankly reprehensible when contrasted against the lives of those working in his factories who earn less than one pound a day.
The blame isn't pointed solely at McCreadie for their plight, as during his parliamentary hearing he himself points out that the likes of Apple, Amazon, Starbucks, Google, and even Bono are avoiding as much tax as they possibly can.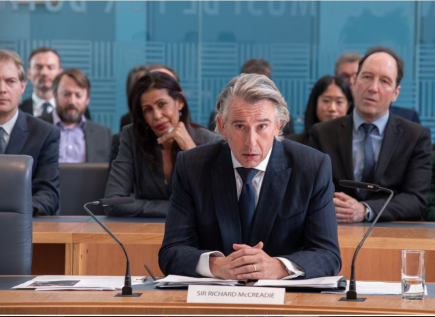 He smugly exclaims: "I'm following the rules, there's nothing wrong with that."
At this point Winterbottom widens his sights, he's no longer pointing out the injustices inflicted by the super rich, he's taking aim at the whole corrupt system that allows these injustices to happen in the first place. It's a bold target for what is mostly a comedy, but he often doesn't miss the mark.
Winterbottom juggles this biting commentary with his usual profanity filled one liners and musical muscle.
Needle drops of Altered Images, Tubeway Army and The Flying Lizards paired with lines such as 'grizzly bear shagging tw*t' in regards to an unnamed Hollywood star (it's not hard to guess who) make it abundantly clear he also directed the madcap Tony Wilson biopic 24 Hour Party People to those that didn't already know.
There's plenty more comic relief from his daughter, who is starring in a Made in Chelsea-esque reality show with her Hooray Henry boyfriend, utilising the seaside scenery to shoot some scenes for the show with increasingly negative results.
David Mitchell plays a Mark Corrigan-lite role as McCreadie's biographer Nick, offering his view of their world from an outsiders perspective, with his tongue-in-cheek suggestions for the party often taken far more seriously than intended.
Greed succeeds where other films of this ilk have failed in that in clearly means what it says and doesn't stutter over it for a second.
It's a giant gold plated and diamond encrusted middle finger to the bosses who take mega bonuses whilst their workers suffers, to the celebrities who preach sustainability but cosy up to climate destroying businessmen, and to the governments and banks that bail out those at the top whilst leaving the most vulnerable to suffer.
It's a call to arms to do better. To remember that blind corporate capitalism is the enemy, to call out injustice where you see it, and to try and make something better of the world. And on top of all that, it's very funny.
You can see Greed at HOME cinema from February 21, more information here.