When you're standing a foot from the stage and it's not the speakers that are imploding your eardrums but the crowd behind, you know this band are doing something right.
Bombay Bicycle Club's current tour to promote their new album So Long, See You Tomorrow came to Manchester Albert Hall last night and the entire experience was electric.
When the crowd weren't screaming they were singing and the reaction to the opening notes of Overdone spoke for itself: it was already a good night.
The Albert Hall was packed from wall to wall. 
As a gig venue the old building's a little surreal, but Jack Steadman's lead vocals instantly reached the rafters in Overdone and the ambiance worked perfectly with Bombay's quirky indie rock sound.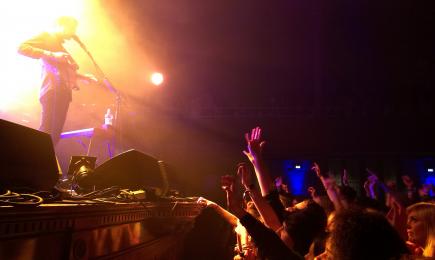 RAISING THE ROOF: Bombay Bicycle Club give the crowd what they want
The band opened with two songs from the new album, setting the mood for the night by plunging straight into a strong bassline overlaid with layers of provocative vocals. 
Their opening track, Overdone, is also the track that opens the new album, followed by the wonderfully warm It's Alright Now. 
The setlist overall was very well paced and delivered with feeling which was lapped up by the crowd.
The support acts were also incredible as Flyte warmed up the crowd, and Rae Morris' ethereal vocals in particular were so breathtaking that several times during her set I had to remind myself the headline act were yet to come. 
At one point she joined Bombay on stage, and the collaboration worked like a dream.
Bombay have also used the tour to introduce brand new track Luna, which they waited almost until the end of the night to reveal. 
The album's title track, So Long, See You Tomorrow, closed the set with an emotive finale.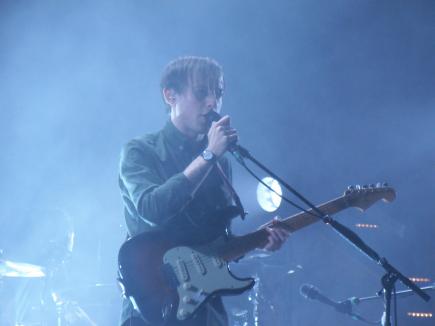 SING ALONG: Lead vocalist Jack Steadman (Image courtesy of Tim Underwood)
This was then followed of course by the inevitable encore, with What If , from their first album I Had The Blues But I Shook Them Loose, and their final new offering Carry Me.
Just before ending the set, Steadman called out into the crowd to end the gig in style.
"It's a real pleasure to play these songs in a venue this beautiful.  Thank you for your energy tonight, Manchester," he proclaimed.
"Let's tear this beautiful, ornate building down!"
The band play their final gig of the tour tonight, again at Manchester Albert Hall, where those attending can be sure to be in for a treat.