Annie Get Your Gun is a little piece of retro heaven wrapped up for the people of Manchester with a big glitzy bow.
Irving Berlin's classic musical premiered 70 years ago, but still has the thrills, spills and heart-warming foundation to enchant audiences today.
The show revolves around the world's most iconic sharp shooter Annie Oakley (Emma Williams), a little girl with a mean shot who joins Buffalo Bill's (Norman Pace) travelling show and falls for fellow gun-toting showman Frank Butler (Jason Donovan).
The show is a love story at its core, but as to be expected its course does not run smoothly.
The first act started with a bang as the entire cast launched into the show's most infamous hit There's No Business Like Show Business.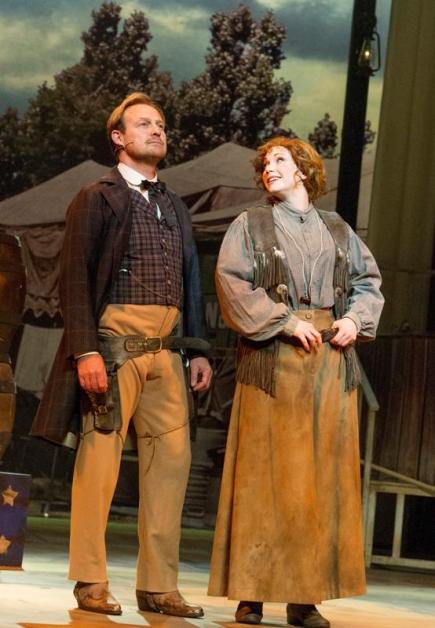 The rabble-rousing introduction encapsulated the glamour of musicals in times gone by and gave audiences an exciting taste of what was to come.
All of the group musical numbers, choreographed by Lizzie Gee, were absolutely exceptional, perfectly executed and full of energy – they really packed a punch.
The presence of a live band on stage also gave the whole thing a real sense of occasion.
Emma Williams was sublime as Annie. Her voice has a stunning Julie Garland-like quality that has the ability to teleport you to another era.
Velvety, versatile and with an incredible range, Williams, who has been twice nominated for an Olivier, brought the house down with hits like You Can't Get a Man with a Gun and I've Got the Sun in the Morning.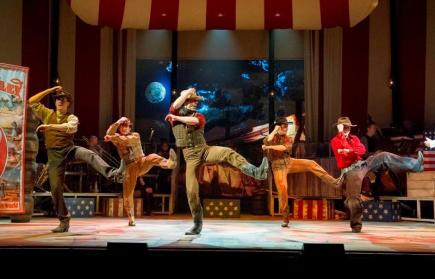 As well as delivering effortlessly-beautiful musical numbers, Williams had the sass, attitude and comic timing needed to portray such a powerful figure balancing the innocent and fierce elements of Annie Oakley perfectly.
Jason Donovan in the run up to the show admitted that the musical put him out of his comfort zone, and at times it showed.
His depiction of Frank Turner had lots of pizzazz, but was lacking vocally at times.
When it came to the sharp shooters solos, it's fair to say there were a few misfires.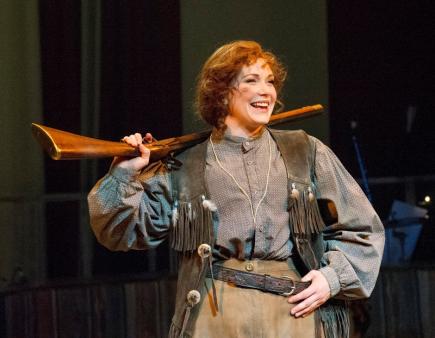 That said, his duets They Say It's Wonderful and Anything You Can do with Williams were a joy to behold.
The most believable and endearing relationship was the forbidden love between travelling show performers Winne (Lorna Want) and knife thrower Tommy (Yiftach Mizrahi). 
Their joint numbers I'll Share It All with You, and Who do you Love, I Hope, were sweet romantic and real crowd pleasers.
Overall, Annie get your Gun can be considered a triumph. Gutsy, funny and perfect for an old-fashioned sing song, this show really hits the mark.
Pictures courtesy of Alistair Muir, with thanks