It can be assumed that life-size posters for Wonder Woman 1984, the sequel to Gal Gadot's debut stint as the iconic character, are right now hanging in deserted cinemas worldwide, bearing 'June 5th' in bold lettering.
The blockbuster, for obvious reasons, will not be released this month.
Wonder Woman 1984 is part of the DC Extended Universe. Sprung onto us with the release Superman flick Man of Steel in 2013, the franchise – which sees hordes of our favourite heroes fight battles within the same world and team up on planet-saving adventures – is DC's contender to the Marvel Cinematic Universe.
The DCEU has been a hot topic recently. It has been reported that Henry Cavill is in talks to return as Superman, a character that had gone off the radar of the film series a little since his appearance in 2017's Justice League. Before the pandemic shut down production, filming of The Batman – a reboot starring Robert Pattinson set for 2021 release – was taking place, with excited fans being occasionally drip-fed intel by director Christopher Reeves and Pattinson himself.
Despite the excitement that still surrounds it, launching a copycat MCU hasn't consistently worked out for DC. The response to most its output from is unfavourable compared to that of its Marvel counterpart.
There appear to several reasons why.
Marvel's attempt began its journey with Iron Man, starring Robert Downey Jr as the titular lead. The film was a hit and spun into dozens of meticulously interlinked, colourful stories featuring big names such as the Hulk and Spider-Man. Today, MCU releases are entire global events.
The multi-billion-dollar series has made an average cinema goer who has never picked up a comic book in their life care deeply about even the previously more obscure characters such as Ant-Man, Falcon, Gamora and Vision.
These same cinema goers who paid to see the much hyped-up Suicide Squad in 2016 probably isn't spending hours four years later reading up on the backstory of its superpower-clad heavies Killer Croc and Captain Boomerang.
The MCU had built audiences' love for its characters slowly since 2008, waiting four years and five solo films before sharing its ambitious team-up Avengers Assemble. The DCEU hurried its heroes together in assemble cast films Suicide Squad and Justice League before we even knew who most of them were.
Suicide Squad is a key reference point when we consider what has gone wrong for the DCEU.
Blue and red wash-out hair dye kits swept off the shelves at the end of October 2016, when seas of Harley Quinns rocked up at every Halloween party going. Jared Leto's Joker was also a striking twist on the villain, both in spirit and in face tattoos. Big names including Will Smith and Viola Davis were even secured as pivotal roles. But low opinions on the $175million budget movie from both critics and audiences – that is 27% and 59% approval ratings respectively – demonstrated that one of biggest cinema events of the year was maybe more style than substance.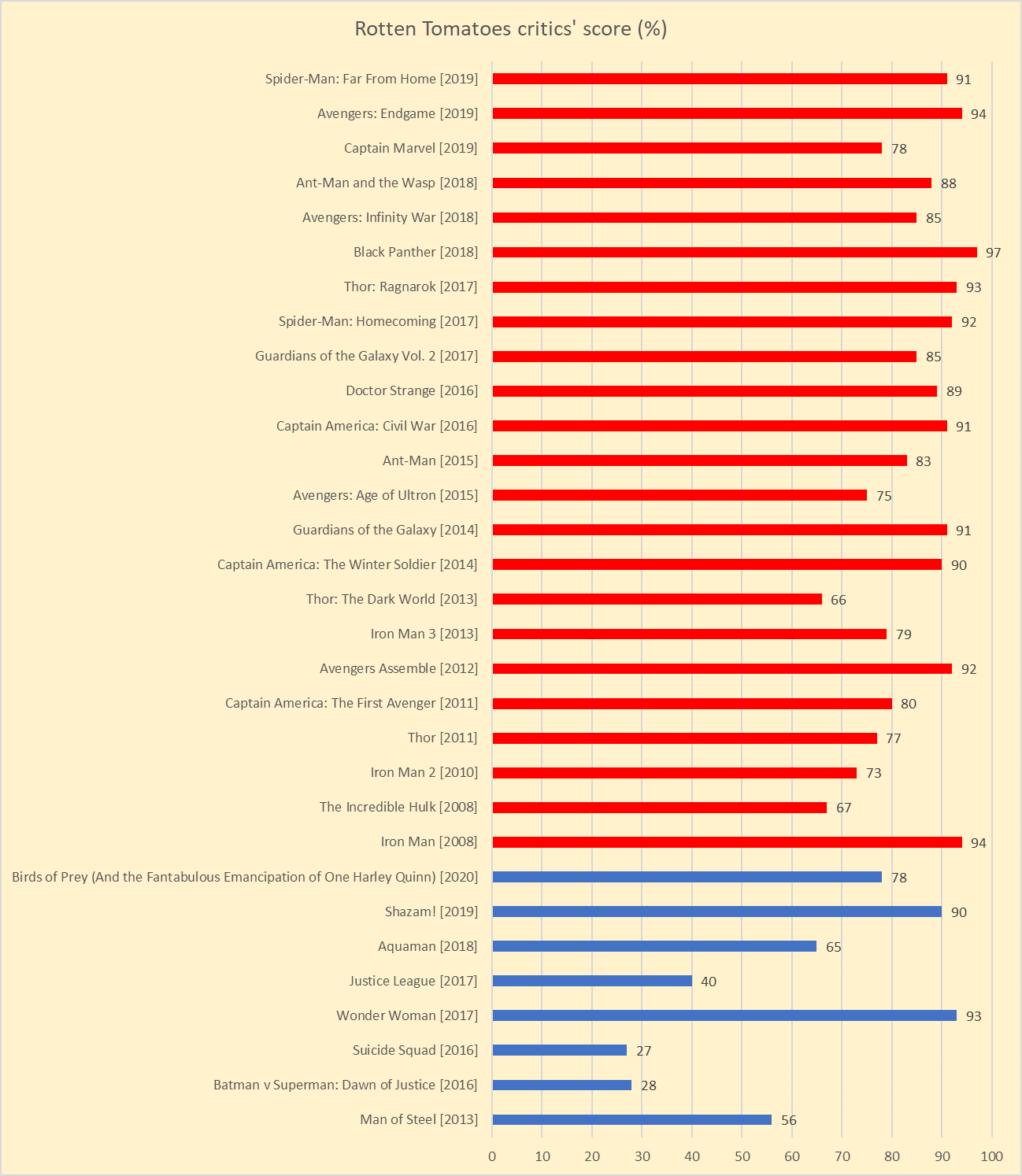 The film was just generally a bit of a let-down following the months of excitement for Suicide Squad that rode on the back of an unprecedented love for comic heroes in mainstream cinema launched by Marvel.  Reviews flooded Suicide Squad's release with accusations of a lacklustre plot, sleezy shots and unimaginative action sequences.
It seems DC's mistake was the invention of a 'universe'. The corporation has proved it can actually produce exceptionally well-regarded superhero stories in recent years. Christopher Nolan's self-contained The Dark Knight trilogy went above the ask in a Batman interpretation that is adored by audiences. Last year's hit 70s-set origin story Joker caused up a stir for number of reasons, but strikingly broke barriers when it was nominated for numerous Academy Awards – a most unusual feat for a superhero film.
Although not the most highly-regarded, Man of Steel's release was an exciting event. Henry Cavill was spectacularly cast as Clark Kent/Kal-El and was joined by Amy Adams and Russell Crowe in building an exciting detailed bridge between Superman's home planet and ours. Of course, at the time, audiences weren't aware Kent would soon be thrown in with the rest of the DC gang in a 'extended universe' format.
Most epitomising the 'universe' concept that has become so trendy in cinema (Universal has also thrown its hat into the ring with its Dark Universe, launching in 2017 with a Tom Cruise-led The Mummy reboot with many more spooky tales in the works for future release) was Justice League. This brought together Wonder Woman and her Amazonians, Superman and Ben Affleck's Batman – along with DCEU newbies Aquaman, The Flash and Cyborg. Although a whack at an Avengers Assembled-style blockbuster, the League only mustered a 40% rating from critics – compared to the Avengers' debut of 92%.
We got to see Aquaman, portrayed by Jason Momoa, again in his own venture in 2018 but the merely decent critics' score of 65% levelled it with the worst of MCU movies. Incidentally, however, it proved that moving the DCEU underwater was the twist to most draw in fans, with Aquaman raking in by far the most in the box office out of all of its films so far. With a worldwide box office gross of $1,148,161,807, it stands as the only DCEU film to break the top 50 highest grossing films ever.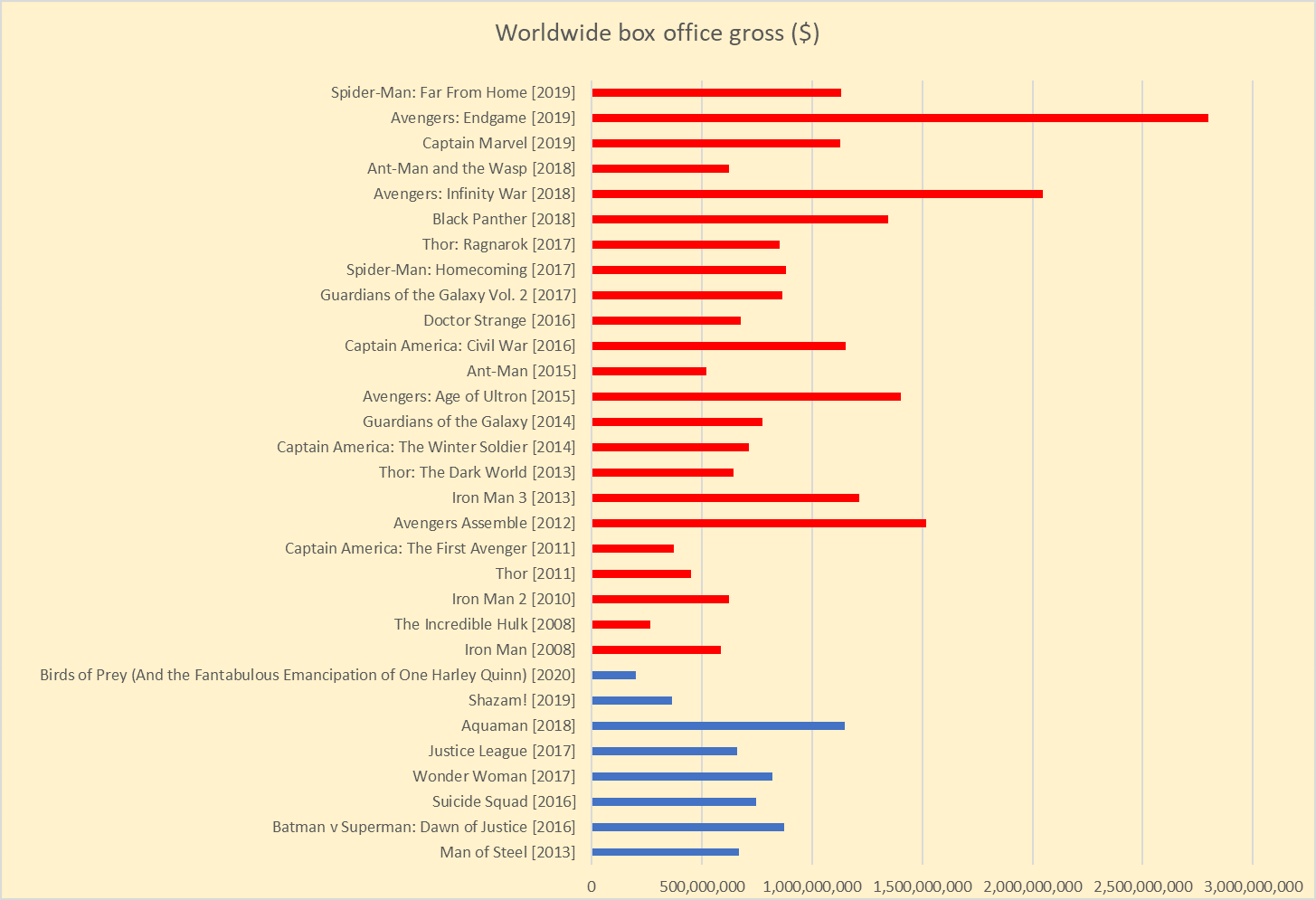 Other successes do also crop up in the DCEU's story, despite the criticism of the quality of its content.
2017's Wonder Woman was under particular pressure to be impress audiences of DC 'fanboys' given a stand-out characteristic – it was female-fronted.
At the time, even the Marvel Cinematic Universe hadn't ventured into this tragically rare quality. It took until 2019 for the MCU to give us Captain Marvel, and only this year will fans receive a Black Widow solo project – despite the Scarlett Johansson role being part of the series' main cast since 2010.
Wonder Woman rated 93% on Rotten Tomatoes, putting it in the ranks of Marvel's best, and seeing it save the DCEU from the disastrous receptions of Batman v Superman: Dawn of Justice and Suicide Squad. Whilst the direction of plans for the Squad, Batman and Superman has regularly drifted in light of DCEU films' receptions, the Wonder Woman story – set to progress with a third film as well as one focussing on the Amazonian warriors of her homeland – remains on its initial track.
Last year's Shazam!, starring Zachary Levi in a classic kid-turned-into-adult trope, also impressed critics, receiving a 90% critics approval rate.
Fan-favourite Harley Quinn returned in February in a widely-anticipated solo outing, the aptly named Birds of Prey (and the Fantabulous Emancipation of One Harley Quinn). It may not have blown many away, overall, the film was liked. Birds of Prey was perceived as hit-and-miss in what the fans want. Robbie's Quinn fabulously revived the quirky craziness of the character, and Cathy Yan's direction allowed us to delve into what makes her tick on a far greater level in an appropriately chaotic and colourful tale.
Worth noting when assessing DCEU's relative disappointment is that there exists a disparity between critics' scores and those of wider audiences. Despite a 40% rating from published reviews, approval rating from audiences comes in at 71%. A similar tale goes for the much-berated Batman v Superman, with its 28% from critics and 62% from audiences record.
While those who scold movies for a living might know what to look out for when a film has room for improvement, few things can really test their worth better than whether they are enjoyed. In reflection of a superhero movie snub at the Oscars but seemingly every Oscar-winning actor leaping for top roles within the MCU or DCEU, audiences are self-aware enough to know that a film doesn't have to revolutionise art for them to enjoy it and make it a box office hit.
However, even among audience scores, it is still the MCU that strives ahead significantly with every outing.
So, what are the DC's plans to make the most of the world it maybe too hastily set up? Well, the planned release schedule which takes us all the way up to the end of 2022 is already quite telling on this front.
Imminently, the second Wonder Woman film's release is unlikely to be conjuring too many concerns at DC HQ, given the success of its predecessor. With the same team behind it, there is no reason why the sequel can't be as praised as the first.
If Superman's return moves from rumour to actuality, the studio will not have to worry too much about box office figures. The legend status of the character combined with a lead of Cavill, who recently furthered his stardom upon staring in Netflix's most-streamed show of last year The Witcher, will be sure to draw in droves of cinemagoers worldwide.
Also scheduled over the next couple of years are a The Flash movie, sequels for Aquaman and Shazam! and, introducing yet more characters to the universe, villain origin story Black Adam.
A spanner in the works was thrown in the production of the long-planned Batman outing when lead Ben Affleck left the project. So as not to waste the effort, making of the film drove ahead, with a total recast. Confusingly, next year's The Batman is still under the DCEU umbrella, suggesting the studio wishes for its characters to interact with the wider universe. Quick to the mark, fans have pointed out it will be difficult to conceive of stories of Superman and co meeting Gotham City's finest once more now that the entirety of the latter have new faces, ages and backstories.
Despite of, or perhaps because of, its poor reputation, even Suicide Squad is getting a follow-up.
A wide cast shakeup will ensue for 2021's The Suicide Squad (yes, it is really just titled The Suicide Squad), but DC are putting a lot on the line to trust that this is enough to grab the masses back after the first one.
If the DC Extended Universe was created with the pure intent of making money, then it has been a success. But when, the comic book characters it utilises are churned through a series of films that ultimately disappoint in terms of quality, a disservice is being done to audiences everywhere who care about them.